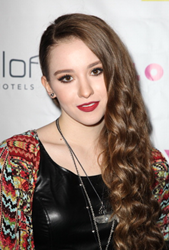 It was nice to see young people and adults go after their dreams but also keep their faith.
Atlanta, Ga. (PRWEB) October 13, 2014
AMTC is a non-profit talent development ministry committed to equipping, elevating and encouraging mission-minded performers. Since 1982, the AMTC team has been searching the country for actors, models, singers, dancers and comedians who want to shine for Christ in the entertainment industry. On Oct. 20 and 25, the organization plans to hold auditions in Kingsport (Oct. 20), Dallas (Oct. 25), Atlanta (Oct. 25) and Milwaukee (Oct. 25). The free auditions are for anyone ages four and up.
The Christian organization has had successes in every area and has been the starting point for hundreds of top industry artists and grads. Recently, AMTC graduate and Capitol Records Recording artist Keta announced a national tour with Joel and Benji Madden. Keta attended AMTC's Summer SHINE 2012 Conference and has since become a huge success. When speaking about SHINE, Keta says, "Being surrounded by so many people on fire for Christ was amazing. It was nice to see young people and adults go after their dreams but also keep their faith."
AMTC Audition scouts are trained in finding new talent and believe in the importance of reflecting Christ in the entertainment industry. If a performer passes the first audition, they will be given a callback. AMTC gives callbacks to performers possessing a teachable spirit with an earnest desire to become role models in the entertainment industry. The late-October auditions will be held by Adam She, Jaco Booyens and Carey Lewis.
AMTC's President Adam She will host the Kingsport and Atlanta Auditions. Adam considers the mission field of entertainment to be the most important mission on earth today: one that the U.S. has a responsibility to lead. His passion is to ignite a new generation of Christians to become men and women of action. "It's time for God's stars to stand up on the stages of film, fashion, music and theater, and in sports—to present positive role models that people can follow," he says.
Jaco is a worldwide speaker on the role of Christians in entertainment and will be scouting the Dallas auditions. Jaco recently directed the feature film "8 Days." The powerful film focuses on raising society's awareness of human trafficking, centering around modern-day slavery in the U.S. Jaco believes that God is raising an army of entertainers and "performers anointed to become positive role models, to become stars for God."
Carey Lewis, Co-founder of AMTC and scout for Milwaukee auditions, is thankful that AMTC has become a shepherd of God's movement into media: the most influential mission field on earth. "God is preparing an army of performers," she said, "AMTC's job is to find them and guide them up the mountains of arts and entertainment."
Bad is bold in the entertainment industry, so good must be bolder. To register for an AMTC audition, please visit http://www.amtcworld.org.