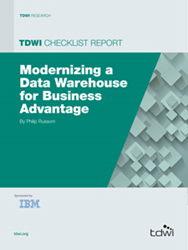 Today's data volumes are forcing us to rethink the scale of everything in business intelligence, data warehousing, data integration, and analytics.
Seattle, WA (PRWEB) October 12, 2014
TDWI Research has released its newest Checklist Report, Modernizing a Data Warehouse for Business Advantage. The report examines the importance of keeping data warehouse capabilities up to date with the latest intelligence requirements to support business goals.
TDWI's Philip Russom, author of the report, explains that modernization can take many forms. "To sort it all out, it's best to put business reasons first. After all, in IT we provide technology that supports business goals." Russom says most business priorities align with priorities such as big data, advanced analytics, real time, growth, diverse data, and new functions and technology such as in-memory computing and in-database analytics.
The Checklist Report explores how enterprises are always looking for new data sources because they provide new insights. He recommends enterprises be open to deploying new data platforms and tools to manage and process new big data. Russom also points out that enterprises can "modernize the logical design of your data warehouse by adding new subject areas and extending older ones."
Russom discusses the compelling reasons for updating data warehouse architectures to keep pace with big data's volumes and processing demands. "Rethink the scale of everything in business intelligence, data warehousing, data integration, and analytics," he advises, because enterprises can "expect increased growth across the board as you plan [data warehouse] capacity for greater data volume storage, more concurrent users, more reports, more analytics applications, more sandboxes, and larger and more complex [workloads]." Enterprises should consider a multi-platform data warehouse architecture as well as evolve enterprise data warehouses to a data warehouse ecosystem, Russom writes.
In addition, the report:

Examines the three common data warehouse modernization scenarios with the greatest success for enterprises
Discusses the importance of rethinking the economics of your data warehouse architecture
Looks at how enterprises can add text analytics capabilities to create new business insights
Provides techniques for boosting data warehouse performance so enterprises can deliver business insights faster and more frequently
Explores three broad layers of real-time technology that an enterprise should revisit during a project for data warehouse modernization
Discusses the importance of real time as a requirement for many business processes
Reveals how data governance can guide your data warehouse modernization project
This research was sponsored by IBM.
For a complete copy of the report or to ask questions of the author, members of the press should contact Philip Russom at prussom(at)tdwi(dot)org. The report is freely downloadable by the public at http://tdwi.org/research/2014/09/checklist-modernizing-a-dw-for-business-advantage; a short registration is required for those downloading a TDWI report for the first time.
About the Author
Philip Russom is director of TDWI Research for data management and oversees many of TDWI's research-oriented publications, services, and events. He is a well-known figure in data warehousing and business intelligence, having published over 500 research reports, magazine articles, opinion columns, speeches, Webinars, and more. Before joining TDWI in 2005, Russom was an industry analyst covering BI at Forrester Research and Giga Information Group. He also ran his own business as an independent industry analyst and BI consultant and was a contributing editor with leading IT magazines. Before that, Russom worked in technical and marketing positions for various database vendors. You can reach him at @prussom on Twitter, and on LinkedIn at linkedin.com/in/philiprussom.
About TDWI
TDWI, a division of 1105 Media, Inc., is the premier provider of in-depth, high-quality education and research in the business intelligence, data warehousing, and analytics industry. TDWI is dedicated to educating business and information technology professionals about the best practices, strategies, techniques, and tools required to successfully design, build, maintain, and enhance business intelligence and data warehousing solutions. TDWI also fosters the advancement of business intelligence and data warehousing research and contributes to knowledge transfer and the professional development of its members. TDWI offers a worldwide membership program, five major educational conferences, topical educational seminars, role-based training, on-site courses, certification, solution provider partnerships, an awards program for best practices, live Webinars, resourceful publications, and an in-depth research program. For more information, visit tdwi.org or follow us on Twitter @TDWI.
About 1105 Media
1105 Media, Inc., is a leading provider of integrated information and media in targeted business-to-business markets, including specialized sectors of the information technology community; industrial health, safety, and compliance; security; environmental protection; and home healthcare. 1105's offerings span print and online magazines, journals, and newsletters; seminars, conferences, and trade shows; training courseware; and Web-based services. 1105 Media is based in Chatsworth, CA, with offices throughout the United States.
###