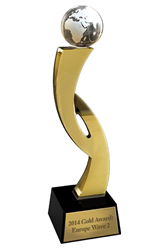 "Anderson continues to protect and champion our ROI as if it was their own."
Poway, California (PRWEB) October 16, 2014
For the second time in the last three years, Anderson Direct & Digital (Anderson) has captured several prestigious awards for its direct marketing expertise in the travel industry.
Travel Weekly last month announced that Anderson's direct marketing efforts for long-time client Crystal Cruises have resulted in not one, but two top honors in the publication's internationally recognized 2014 Magellan Awards.
A high-end, 18-page self-mailer, designed as a luxury cruise guide for affluent travelers interested in sailing to Europe, won a Gold Award in the Cruise Marketing/Direct Mail category. A second entry, which included several personalized direct mail packages, multi-touch lead cultivation communications and a supporting campaign microsite, earned a coveted Silver Award for Lead Generation.
"Over the last decade in working with Anderson, our direct marketing results have improved significantly, in great part due to our partnership regarding guest profiling and modeling, production efficiencies, creative and strategies which are all hardwired to reduce our cost per lead," said Nitsa Lewis, Crystal's vice president of marketing. "They continue to protect and champion our ROI as if it was their own."
Anderson, a recognized leader of direct, digital and database marketing, is no stranger to industry awards. Among its many accolades and honors, the agency is a three-time Professional Insurance Marketing Association (PIMA) Methods Award Winner, a DMA ECHO Leader Award Winner, and is ranked as one of the top 20 DM agencies in the country by DM News.
# # #
With decades of expertise, Anderson inspires target audiences to take action and deepen their relationship with your brand while delivering a strong and measurable lifetime value. Services include marketing strategy, creative, data intelligence, digital marketing, and media planning as well as direct and digital marketing production services. Anderson is ranked as one of the top 20 DM agencies in the country by DM News. In 2013, Anderson was voted a Union Tribune Top Workplace. For more information on Anderson, please visit http://www.andersonDD.com