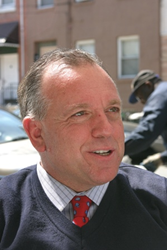 "There are other ways that you could support your community without being an elected official," said former Hoboken Mayor David Roberts. "I'm learning about those ways and doing them now, and this web launch is the first step."
Hoboken, NJ (PRWEB) October 11, 2014
Former Hoboken Mayor David Roberts has launched a new website detailing his current charitable and entrepreneurial pursuits. Mayor Roberts retired from public service in 2009 after an illustrious career that began in 1981. The former mayor has had a lifelong commitment to public service and looks forward to continuing to strengthen the Hoboken community in new and exciting ways.
"There are other ways that you could support your community without being an elected official," said former Hoboken Mayor David Roberts. "I'm learning about those ways and doing them now, and this web launch is the first step."
Mayor Roberts is the chief benefactor and supporter of the bookstore Symposia, a public benefit nonprofit corporation organized and operated exclusively for charitable purposes. Symposia makes books accessible to a broad audience within the Hoboken community and serves as a community center for educational activities. Mayor Roberts, along with his late wife, Anna, has also been a tremendous supporter of the Hoboken Public Library. He has been a member of the Hoboken Elks Lodge since 1981 and has hosted fundraisers for The Waterfront Project, Project Play Initiative and Hoboken Family Alliance.
As a businessperson, David Roberts currently manages several properties used for both commercial and residential purposes. He is perhaps best known for his restaurant East LA, a local staple of Hoboken for over 25 years, revered for its delicious Mexican food and margaritas. Mayor Roberts has also received an award for the restaurant's storefront, located at 508 Washington St. in Hoboken.
The new website will keep the public up-to-date on Mayor Roberts' extensive involvement in the Hoboken community and provide resources for others to get involved in the many causes he supports.
Please visit davidlroberts.com to learn more.