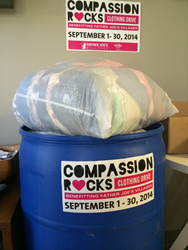 Helping those in need, especially neighbors in our community, should be everyone's business.
San Diego, CA (PRWEB) October 13, 2014
With the mission to end the cycle of homelessness through the use of innovative solutions, local San Diego charitable organization, Father Joe's Villages, along with Hard Rock Hotel San Diego, sponsors an annual clothing drive. All donations received throughout the month of September are used to provide local San Diego residents, including individuals, families and veterans, with gently worn apparel. Tipping the scales at over 200 pounds are the clothing donations collected by digital advertising agency, Geary LSF.
"We may be in the business of advertising, but we're firm believers that helping those in need, especially neighbors in our community, should be everyone's business," says Geary LSF Executive Vice President of Sales & Marketing, Cary Johnson. "Geary LSF was built on three cores values: Inspire, Respect and Exceed. We apply these values to all aspects of the agency whether that's the work we do in the office or the work we do in our community. Giving back and contributing what we can to the local community that's provided us as an agency a home for so long, just feels right."
The employees of Geary LSF were encouraged to participate in the drive by donating new or gently worn apparel items. In the course of one month, the piles of clothing collected in the Geary LSF San Diego office exceeded expectations with new bags being added daily. Thanks to the generosity of the team, Geary LSF was able to donate over 200 pounds of clothing, ultimately helping to increase the confidence of less fortunate individuals and improve the well-being, just a bit, of the local homeless community.
For more information on the Compassion Rocks Clothing Drive please visit http://www.compassionrocksgiving.com. To make a donation to support the work of Father Joe's Villages, visit their website here. For more information about Geary LSF, their work and their services, please visit GearyLSF.com or contact a representative of the agency at marketing(at)gearylsf(dot)com.
About Geary LSF
Geary LSF is an integrated full-service online marketing group that uniquely optimizes the digital customer engagement path, delivering more results per campaign. It provides advertisers with comprehensive services from Strategy to Development, Media Planning to Placement, SEO, SEM, Analytics, Social, Local and Mobile media. Headquartered in San Francisco, the 200-people strong Geary LSF manages campaigns for more than 240 brands worldwide including: WD-40 Company, Bumble Bee Foods, MegaPath, Aramark, Ashley Furniture, Target, Club Med and several others. For more information, please visit http://www.gearylsf.com.