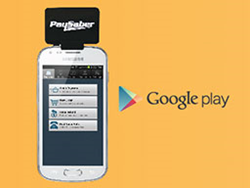 Glendale, Calif. (PRWEB) October 13, 2014
USAePay, one of the advanced payment gateway solutions in the industry, is proud to announce the newest release of the Android App Update version 1.3.7. USAePay's Android App update features exciting new updates that will enrich the app users experience by featuring the newest and most secure selections in payment processing. To date the Android App has reliably delivered updates enhancing security, usability, and mobile payment processing.
Android App update 1.3.7 features the following:

Customer email can be saved to "Transaction History" on both merchant console and Android application with the "QuickPay" feature.
Searchable list of categories is available while adding an item in the "New Order" section of the application.
New graphics will appear while swiping credit cards.
Signature image is now viewable through transaction details.
New "long press" feature available to delete customers when completing an order and removing open orders.
The USAePay mobile Android App delivers a quick and easy interface for processing payments. The App includes a mobile point of sale (cash register) interface that supports inventory syncing, cash payments, tax calculation, and order history.
Learn more about USAePay's Android mobile app and download for free at https://play.google.com/store/apps/details?id=com.usaepay.android&hl=en
###
About USAePay:
USAePay is a family-owned business based in Los Angeles, CA. For over 15 years, the company has been assisting merchants with payment solutions to fit their needs. USAePay's payment gateway supports most of the major platforms in the credit card industry and works with some of the leading check platforms. USAePay is pleased to work with most of the larger merchant service banks in the US and Canada. For more information, please visit http://www.usaepay.com or call 866.USA.EPAY (872-3729).