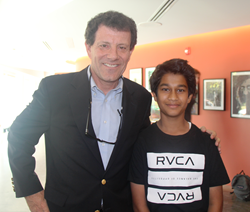 Santa Monica, CA (PRWEB) October 12, 2014
New Roads School's students and teachers welcomed Nicholas Kristof, renowned New York Times columnist, author, and two-time Pulitzer Prize winner, at a special assembly on October 8. Mr. Kristof discussed "What is meaningful activism?" with our upper school students. This presentation was part of the New Roads School's "Workshop" curriculum, which investigates a range of social, economic and environmental issues, and engages students in developing solutions.
Kristof's recent book, "A Path Appears" tells the stories of individual activism that have led to profound change and served as a launching pad for the discussion. He shared stories of the remarkable individuals who inspired the book and how they have brought about change. Mr. Kristof then responded to student questions, including how to convey emotion in writing about difficult subjects, how his reporting has caused others to take positive action, and whether education is truly the only pathway out of poverty in the US and abroad. When asked about the most appalling thing he has experienced as a journalist, Mr. Kristof spoke of his experiences reporting on the genocide in Darfur. He received his second Pulitzer Prize in recognition of this Darfur coverage.
New Roads Upper School Director Patricia Bentivoglio says, "Hearing Nicholas Kristof's first-hand accounts from the world's most violent and impoverished places and witnessing his determination to give voice to oppressed and abused people throughout the world was truly transforming for our students."