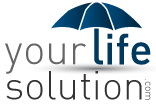 Chicago, IL (PRWEB) October 11, 2014
YourLifeSolution.com, a service which aids consumers to view the best life insurance quotes available, is today announcing their intention to reevaluate in-force policies which contain a cash value. The service believes that they can provide a better value in many cases by utilizing the cash value within an already existing policy to fund a new and more advantageous life insurance policy. According to YourLifeSolution.com, such an exchange of funds can be accomplished simply by completing a tax-free exchange, otherwise known as a 1035 exchange, into a new policy. "While there is not always a benefit to a 1035 exchange into a new policy, there are many scenarios where the cash value of an existing life insurance policy can be utilized more efficiently to generate gains for beneficiaries or the life insurance policyholder themselves", said Eric Smith, the founder and independent life insurance agent of YourLifeSolution.com.
Consumers interested in seeing if they can achieve better performance from their current cash value life insurance policy are encouraged to visit YourLifeSolution.com and use the contact form to begin a dialogue.
Consumers interested in viewing instant life insurance quotes on term life insurance or permanent life insurance can do so at YourLifeSolution.com. Information on life insurance or tax-free retirement planning can be obtained by phone at 888.374.2764.