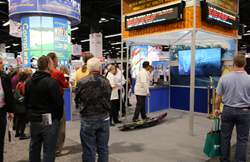 "Interactive Fun - Unique and Exciting Experience for our Trade Show " Micah Grotte, director of events, SPECTRUM CONTROLS.
Honolulu, Hawaii (PRWEB) January 14, 2015
ICAMSURF – THE EXPERIENTIAL EVENT ENTERTAINMENT PORTABLE SYSTEM
Surf Simulator Events introduces a new computerized system that allows anyone to surf on a full sized Virtual
Surfboard on dryland... or use a Magic Carpet to simulate surfing a continuous 30 foot wave anywhere and anyplace in the world for a trade show, corporate event or promotion - indoors or outdoors without getting wet.
iCamSurfing is the new interactive dryland surf experience that requires fun, physical participation using standard webcams. A PC webcam running windows 7 / 8 can now read complex body movements for playing a variety of interactive games.
A revolution to the interactive game market is being introduced by Experiential Event Entertainment called iCAMSURF – THE PORTABLE SURF PARTY - which simplifies the deployment of entertainment events worldwide. More than 15 years ago, the company introduced the world's first electronic, waterless, surfboard simulator system for dry land. The launch of their new iCAMSURF software series combines the power of successful 3D gaming along with Extreme Reality's webcam Sensing engine. The webcam software engine maximizes the interactive on screen gameplay while providing the choice of using a real surfboard or simple surfboard shaped rug. It is like standing in front of a security camera - any move you make is sensed and interpreted into riding a huge Hawaiian Waimea Wave on any video screen or controlling a soccer ball or car race with simple body movements.
In addition, the proprietary software can be quickly customized. For example, project a continuous, gigantic 30 foot virtual tube wave decorated with corporate logos, banners and branded coins. The "surfer wannabe" stands in front of the webcam and large monitor and strikes surfer-like poses and movements on dry land to control all the surfing action in the virtual wave tube. The portable and quick deployment iCAMSURF technology offers a broader, new and exciting entertainment event for any aged guests at retail operations, trade shows, marketing / promotion, restaurants, hotels or parties all within a smaller footprint.
iCAMSURF technology will be used for corporate events, trade shows, fund raisers interactive museum exhibits, hotels and retailers that demand standalone interactive displays where manpower is a costly resource.
The iCAMSURF motion control recognition system is powered by well-known software company Extreme Reality, the only company to provide full-body, software-based, 3D motion analysis and control to any computing device via a standard web camera. As a valued partner, Extreme Reality was integral to development of the unique surfing game as it provided the robust engine that harnessed the power of the existing onboard web cam of any laptop or external web cam turning it into virtual, hands-free controller for PC games.
Surf Simulator Entertainment Events plans to offer the surfing system as a licensed software for entertainment events to engage guests at corporate events, trade shows and other promotional activities. Business operators, restaurants, bars and events as well as business owners can utilize the system as an addition to their present promotional tools.
About Extreme Reality
Extreme Reality software enables a future where people interact with computing devices through the motion of their body. Providing full-body, software-based, motion analysis and control to any computing device or operating system via a standard camera. Offered as a software development kit (SDK) (Available online: http://www.xtr3d.com/developers) motion control is available to any developer on any operating system, Windows, iOS and Android. Extreme Reality was founded in 2005 and is based in Herzelia, Israel.
About iCAMsurf
Surfsimulator Events / iCAMsurf Virtual Surfing has been in the marketing/advertising and promotions business for over 20 years across the globe from Dubai, Japan as far as South Africa delivering "experiential" events to promote brands and entertain. With team backgrounds coming from Atari, Nintendo, Sega and Nordic track, the group has developed successful, interactive software focused on engaging any age and culture. Their worldwide reputation is based upon their patented "Virtual Surf Simulator Systems" which use a real electronic surfboard to teach people how to surf and sharpen their balance skills on dryland. The iCAMsurf system is a completely new alternative requested by many clients who are subjected to limited space, manpower and need quick deployment time . Sans electronic surfboard, the new guest experience is simplified – a standard webcam reads the movements of the guests (standing directly in front of the video screen) to control the exciting surf action while the spectators are exposed to the brand and product images. http://www.surfsimulatorevents.com