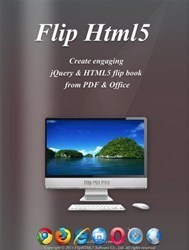 (PRWEB) October 12, 2014
Many FlipHTML5 users use the interactive HTML5 digital publishing platform to publish monthly, weekly or daily publications online. As the demand for publications is continuously increasing, users have to publish multiple flipbooks everyday. In order to help them manage all of the flipbooks they make, FlipHTML5 has added a powerful bookcase feature to exhibit all published online flipbooks in a beautiful showcase.
The newly added 'bookcase' feature supports creating multiple bookcases and configuring them as per the requirement and preferences. For instance, users can choose to keep the bookcase visible or invisible; set an access password; and show/hide the Search function, Contact Panel, Share Button & Skin Button. Additionally, users can select a default bookcase whose setting is synchronized with the home pages of all flipbooks, and when a user sets a password for any bookcase, it applies to the home page as well.
FlipHTML5 offers the bookcase function to all five pricing plans, and even, any user who opts for a free trial, can create, upload publications, and show them in a digital bookcase. The bookcase can be added to a web page easily.
"FlipHTML5 can make eye-feasting publications without a hassle, but many times users face issues in managing them. The bookcase function will be a boon for people who are making multiple publications every day, because not only it will help them to store their books properly, but also allows them to showcase their books effectively," said a FlipHTML5 official.
Users can customize the size, caption, and change the cover/skin of the bookcase according to their preferences. Additionally, they can embed the bookcase to a website with easy embed codes. If a user publishes a book(s) to FlipHTML5 cloud hosting, the bookcase on the website will collect the newly published HTML5 flipbooks automatically.
If the user does not embed the bookcase code into the website, visitors can still view the bookcase on any iPad, iPhone, Android tablet, or any smartphone by scanning the QR code of user's account.
FlipHTML5 is a wonderful digital platform that can distribute publications online and offline. Users can add links or videos and audios along with HTML5 animation to a publication, which makes it more interactive and enriching. Interested people can get more information here: http://fliphtml5.com/features/.
About FlipHTML5.com
FlipHTML5 Software Co. Ltd is a leading provider of digital publishing software, headquartered in Hong Kong. The company aims to perform research & development activities, and create an outstanding range of e-publishing software for users across the world. To get more details about the company, visit - http://fliphtml5.com/.