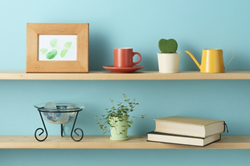 Walls are for more than hanging pictures and knickknacks. Use this space for storage.
Chicago, IL (PRWEB) October 11, 2014
The Federal Savings Bank knows that one challenge first-time home buyers face is finding a home with a good amount of storage space that fits their budget, and some have to compromise on size for the right price. If you find yourself in this position, don't fret, as there are many ways to maximize space even in the tiniest of homes.
Think back to the days as an apartment renter and how crafty it came to cramming all of one's stuff into a cramped space. Those same principles apply, but one gets to look to more heavy-duty solutions as a homeowner.
Here are some tips for getting more storage in a small house:
Take advantage of vertical space
Walls are for more than hanging pictures and knickknacks. Use this space for storage.
Start by hanging shelves. Given that one is no longer renting anymore, homeowners can put as many holes into the wall as they want, so place shelves wherever is needed for storage. Depending on how one arranges possessions, this organization solution can add a design element.
Also, invest in hooks. These items are particularly valuable in the kitchen, as one can hang cooking utensils from them and save space in their drawers.
Use multifunctional furniture
Many pieces of furniture come with built-in storage space. Pick up a few of these items, which can be used all over the house.
In the bedroom, for instance, you can utilize a frame that has built-in cubby holes or drawers on the bottom. This space can accommodate shoes, socks and other belongings. In the living room, one can use ottomans that open to reveal a bin. Fleece throws and other possessions can be tossed in here.
Downsize the amount of belongings
Sometimes, it's hard to say goodbye to certain things, but doing so can help a homeowner live more comfortably in a smaller house. Rummage through possessions and determine what can be given away. If one received a rice cooker as a wedding gift five years ago and it's still not used, there's a good chance it won't be used in the future.
Remember to avoid replacing all donated items with new stuff. Although living lean may be challenging at first, it can help individuals stray away from frivolous spending.
Whether one wants a mansion or a cozier abode, contact The Federal Savings Bank, a veteran owned bank, for information about low cost mortgage options.