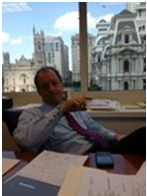 This is another way for our clients and non-clients to reach our firm, and have the ability to be put at ease
(PRWEB) October 15, 2014
Attorney Michael Kotik of KMKM Law Group, P.C. believes that this site will allow Pennsylvania and New Jersey residents to be able to have access to lawyers at the firm immediately, allowing for a quick answer to their questions; and the ability to get a piece of mind when dealing with criminal and personal injury related questions and concerns.
Another website will be a great addition to the law firm, allowing them to communicate with a vast variety of people interested in having their questions concerning the law answered immediately.
Kenny prides himself on the ability to provide individuals with quick and efficient responses to legal questions.
"This is another way for our clients and non-clients to reach our firm and have the ability to be put at ease," said Thomas D. Kenny, president and managing partner of KMKM Law Group, P.C.
AskPhillyLawyer.com will also provide residents of Pennsylvania and New Jersey with case results and every day announcements concerning legal victories and the direction of the law firm. Kenny states "another website creates a larger presence in the community, showing the residents of Philadelphia and the surrounding counties that we are always available to them."
Thomas D. Kenny and Michael Kotik have worked alongside each other for several years developing new innovations within the legal marketing realm in order to make their practice stand out amongst their competitors. KMKM Law Group, P.C. has grown in size, and advancements such as the website, http://www.askphillylawyer.com is a contributing tool in their success.
"I like having another website out there representing our law firm; it's a great way to show case our success and allow individuals to have access to us 24 hours a day, 7 days a week," said Kotik.
About AskPhillyLawyer.com
The lawyers at KMKM Law Group, P.C. are available to help individuals or their loved ones facing serious criminal charges. For more information about their Philadelphia Criminal Lawyer services and Personal Injury services, or to schedule a free consultation, call them at today at 215-266-8544 or visit them at http://www.askphillylawyer.com.