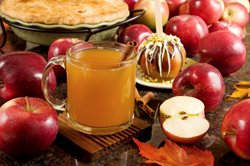 Best Places to See Near the Blue Ridge Parkway
Asheville, North Carolina (PRWEB) October 12, 2014
It's golden, delicious and fun to the core! The Annual Apple Harvest Festival is set to take place on Saturday, October 18th from 10am-5pm in Downtown Waynesville, NC. Main Street comes alive every year during the festival with dancing, arts and crafts, live music and of course, apples! Attending one of the biggest North Carolina apple festivals means fresh cider, pies, applesauce and various other apple dishes as folks enjoy Balsam Mountain Preserve, one of the finest gated mountain communities near the Blue Ridge Parkway.
Scheduled live entertainment at the Waynesville Apple Festival from 10am - 5pm includes:
Bobby & Blue Ridge Tradition
Green Valley Cloggers
Southern Appalachian Cloggers
Whitewater Bluegrass
The Apple Harvest Festival is just one of Waynesville's attractions. One of the best mountain towns in Western North Carolina, Waynesville is filled with specialty shops, fine art galleries and one of a kind delicious restaurants. The area possesses the perks of a big city along with the quiet charm of a small town. Waynesville is also conveniently located near the Blue Ridge Parkway making it extra special for folks who appreciate America's Favorite Scenic Drive.
People flock to Waynesville in the fall for its outstanding scenery and to see the bugging elk in Cataloochee Valley. The town is located 2,800 feet on a high plateau in the Smoky Mountains of North Carolina. That's high enough to be above the humidity which covers the eastern seaboard most of the summertime. Waynesville is also one of the best mountain towns in North Carolina because it is surrounded by a dozen or more 6,000 foot mountains which provide amazing views and outstanding hiking trails throughout the year.
Folks looking for a gated Waynesville mountain community in the heart of it all won't want to miss exploring Balsam Mountain Preserve. The nature preserve offers only 400 home sites on 4,400 wooded acres, making this one of the lowest density communities in Western North Carolina. Over 250 homesites have been purchased and 81 homes are already either completed or under construction. This very special place, just 35 minutes from Asheville, is resonating with families craving an authentic, low density mountain retreat with completed amenities and an existing sense of community.
Amenities include an 18-hole Arnold Palmer golf course, an equestrian center, Nature Center and an outdoor pool with gated entrance. Cowboys and outdoor enthusiasts will appreciate the Balsam Mountain Preserve Equestrian Center which has 30 miles of private riding trails inside within this gated Waynesville mountain community. The trail system is ideal for hiking, horseback riding and mountain biking.
The Boarding House Restaurant is one of Balsam Mountain's finest gems, whether it's for a hearty breakfast or a fancy five course dinner at the end of the day next to a warm fire. The seating inside and outside provide beautiful mountain views, perched up in the forest. The menu changes frequently at The Boarding House, so residents never get bored.
Balsam's private Residence Club program is a unique fractional ownership opportunity. It offers families the opportunity to enter a premier mountain club community for a fraction of the price of a traditional home or homesite. The program offers owners the flexibility of reserving two guaranteed weeks each season (a total of eight weeks annually), coupled with the added benefit of unlimited additional time on a space available basis. Real Estate Scorecard suggests this as a superb way to try out the Balsam Mountain Preserve lifestyle for under $100K.
Take a peek at Balsam Mountain homes
As a luxury gated Waynesville mountain community, Balsam Mountain Preserve receives rave reviews for all that it has to offer.
Call Balsam Mountain Preserve direct at 866.452.3456 to schedule a tour.
About Real Estate Scorecard:
Real Estate Scorecard writes unbiased real estate reviews providing in-depth information about popular gated communities in Florida, Georgia, North Carolina, South Carolina and Tennessee, all in an effort to help people discover where to retire in the Southeast.
Website: http://realestatescorecard.com