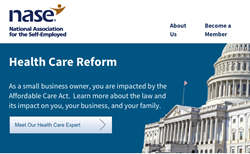 At the center of America's middle class is the over 23 million small businesses responsible for nearly 70% of all new jobs created in our country
DALLAS, TX (PRWEB) October 14, 2014
The National Association of the Self-Employed (NASE), the nation's leading advocate and resource for the self-employed and micro-business community, brought together hundreds of small business owners from across the country in Austin, Texas last month for the association's 34th Annual Meeting. During the meeting, NASE made a strong commitment to its members and the small business community at-large by announcing newly enhanced resources and benefits to ensure they have the tools and resources to succeed.
During the meeting, NASE President and CEO, Keith R. Hall, called on Congressional leaders and elected-officials across the country to support pro-growth economic policies that will allow America's entrepreneurs to continue to gain access to capital and grow their businesses.
"At the center of America's middle class is the over 23 million small businesses responsible for nearly 70% of all new jobs created in our country," said Keith R. Hall, President and CEO of NASE. "It is vitally important that during this midterm election year, our elected leaders of all political stripes and ideological backgrounds support an economic environment that allow America's small businesses to grow, expand and keep their doors open. When our country's small business community thrives, the American economy remains strong."
As part of the 34th Annual Meeting, NASE also announced the launch of an enhanced website - http://www.nase.org - focused on providing a range of member benefits to help entrepreneurs and their small businesses compete in today's globally competitive marketplace. The website will allow NASE to grow the association's ability to provide members access to benefits and resources that too often are only available to larger corporations – placing small businesses on more equal footing with their larger corporate counterparts.
"With open enrollment just around the corner for our nation's health care system, our dedicated health care portal on our new website is designed for small business owners to navigate the health care market," continued Hall. "At the heart of our work is ensuring we are providing our members the most comprehensive benefit support available. On top of providing small business owners a voice in Washington, DC, we also want to continue to be a trusted resource on Main Streets across the country. The launch of our newly enhanced website and dedicated health care page will allow us an increased ability to make a real difference in the bottom line of our member businesses."
One of the key elements of the newly launched NASE.org website is the site's health insurance benefits section offering small business owners critical information on the health insurance market. Additionally, the site allows small business owners to access to NASE health insurance experts that provides members with the a professional to help guide them through the different health insurance options available exclusively to small business owners and their families. The enhanced health care section of the site is available: http://www.nase.org/business-help/get-help/health/healthcare-reform.