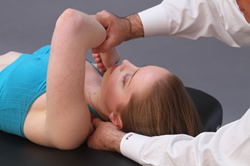 "I feel I have more skills that I can use with my patients for treatment and I have more confidence in that particular area" –Eduardo
Astoria, New York (PRWEB) October 13, 2014
Seemingly out of nowhere, Julie began having pains in her wrist and elbow. She had experienced no moment of trauma, just a growing discomfort. As much as she tried to "just carry on," the pain got worse to the point of interfering with the simple and important things in life. Lifting her baby out of the high chair, working at the computer and even driving the car became difficult and burdensome. When she came into the physical therapy clinic, it took a little time and skill to diagnose the problem but several weeks later, Julie was on the mend.
The Upper Extremity Course, "A Comprehensive Manual Therapy Approach to Shoulder, Elbow and Hand Pathology" (PT04) gives physical therapists a clear understanding of the biomechanics of the elbow and wrist and offers a variety of strategies to help diagnose stubborn problems such as those encountered by Julie.
Participants will be taught integrated, comprehensive techniques from the following approaches:
Myofascial Trigger Point Therapy
Muscle Energy Technique (MET)
Strain & Counter Strain (SCS)
Shoulder - Elbow & Hand Mobilization - Manipulation
Neurofascial Mobilization
Shoulder - Elbow & Hand Stabilization
Proprioceptive Training
Differential diagnosis, evaluation and treatment methods will be taught in extensive lab sessions.
Comprehensive Manual Therapy Approach for Shoulder - Elbow & Hand Pathology.
This intensive 2-day training seminar and workshop is considered the Ultimate Course in Advanced Manual Therapy.
This advanced training is designed to have immediate clinical applications, and is dedicated to those health care professionals who want to learn a total Manual Therapy approach to Shoulder, Elbow & Hand Pathology.
Seminar will be held in:
Astoria, New York
November 1st and 2nd – 8AM to 5PM.
CEUs: 16.8
Hands-On Seminars, Inc. (HOS) is the leading international continuing education organization in the world, awarded the Lecture & Seminars Award as the best Lecture and Seminar Company from the Lectures and Seminars Bureau over the past two years. Their purpose is to provide the best quality Manual Therapy seminars at an affordable cost. For further information, please contact: Alexandra Rosner at 888-767-5003 or info(at)handsonseminars(dot)com
###