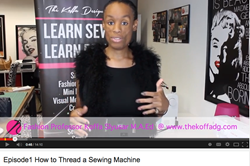 Learn Sewing, Love Sewing
Pasadena, CA (PRWEB) October 13, 2014
The Needle: a breath of fresh air in a sea of "how to" videos, this series will provide a go to place for anybody wanting to learn about fashion, trends, and making clothes. People watching these videos will be taught various aspects in the process of making clothes, as well as fashion tidbits, and commentary by the fashion Professor Koffa. Viewers can expect:

In-depth instruction videos
Workshops on what's "In-style"
Commentary from Koffa in what's trending
This forum is going to be great for people working from home and just need to brush up on what's hot. Located in Pasadena, CA, the Koffa Design studio isn't always accessible, so this web series will give Fashionistas, enthusiasts, and designers around the world the ability to learn and experience what a real fashion tutorial or workshop is like.
Videos will be posted periodically, and upon request. The first video will be posted mid-October, and will feature how to thread a Sewing Machine.
How to View: visit the Koffa Design Group's YouTube page, and view "Episode1"
Follow us on Facebook: @TheKoffaDesignGroup
Instagram: @Studiotkdg
Email: info(at)thestudiokg(dot)com
Address: 2525 East Colorado Blvd Suite 112, Pasadena CA
About the Koffa Design Group
The Koffa Design Group is a design studio that offers creative educational services in addition to its fashion courses that teach topics on fashion design and fashion business and practices. Located in Pasadena, clients can receive an array of services that include e Learning design, video products, curriculum development and fashion education. Learn more about the Koffa Design Group at http://www.thekoffadg.com.