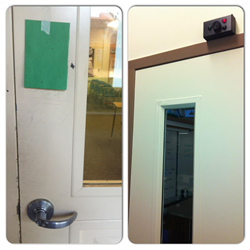 Safeskoolz Aims to Fight Back Using Technology.
Palo Alto, CA (PRWEB) October 14, 2014
It is becoming all too familiar: "active shooters" going on a rampage leaving kids, co-workers and even family members injured or worse.
Safeskoolz aims to fight back using technology. Imagine first responders knowing exactly where they need to go and what to do during a school-based attack. Safeskoolz is eliminating the guesswork, allowing for more informed decisions to be made using software/hardware based communication.
With Indiegogo, Safeskoolz aims to raise funds in order to install their system in Bay Area schools for free. This initial project was designed to fully fund the costs associated with manufacturing, installing and operating their system in those particular schools. There are several fees involved in taking on a project like this, so they have set a goal for $150,000.00. The more that is raised, the more schools they can help. Safeskoolz technology not only gives law enforcement immediate visibility and knowledge of the current condition of a school during an attack scenario, it also provides greater security and clearer communication at the classroom level.
According to a recent study conducted by the FBI, in the last 13 years, active shooter type situations have skyrocketed from 6 per year to 16 per year in the U.S. Although the reality of this happening in our community is not something most people want to consider, the thing to remember is that the consequences are high.
Designed for optimum response time, the Safeskoolz Notifier system will communicate status conditions in real-time, bridging the gap between first responders and the classroom or office. By the push of one button on the "Safeskoolz Remote", teachers/staff will be able to simultaneously:
Lock their doors
Dial 911 dispatch
Notify the office/campus of a threat
Communicate the condition status of their area
Activate IP cameras
Activate 2-Way audio communication backup
Pinpoint the problematic location via digital maps
Police procedures are beginning to change. In the past, first responders were told to "wait it out" and negotiate. They are now instructed NOT to wait, but to go right in, stop the attacker and save lives. With Safeskoolz, they won't need to walk in blind. Their system will not only communicate with 911 dispatch, but it will also communicate with those first responders at the scene. The system displays the status condition of every room above or to the side of the door using an L.E.D. alert communication. First responders will be able to literally run down the hallway, see the condition of each room and focus their efforts where it is needed.
Each L.E.D. alert light communicates something very specific and can be customized to what any school's local procedures call for. For example:
Green: The room is safe and that all students are accounted for.
Blue: The room is safe, but that not all students are accounted for.
Red (piezo horn is engaged): There is a serious problem and immediate assistance is needed.
Yellow: The room is safe and there are extra students in the room.
Why is important to display room conditions?
According to the Safe Schools Initiative, a study conducted by the U.S. Secret Service and the U.S. Department of Education, most school based-attacks have been planned out thoroughly. This means that attackers know school schedules and know which rooms are occupied. The idea that we can just lock the door, turn off the lights and act like no one is home, is unrealistic. Additionally, because of the challenges schools face with clearly communicating their conditions, first responders are blindly walking into hostile situations. Using a unique method of multi-level communication, Safeskoolz is bridging the gap between the classroom and emergency first responders.
For more information on how to partner with Safeskoolz, visit their Indiegogo campaign.