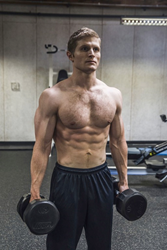 Boston, Massachusetts (PRWEB) October 21, 2014
It isn't often that a Fitness Expert the caliber of William Byrd decides to reveal the secret training protocols that took him years to perfect. William is not just a guy that will stand next to his clients while in the gym, and "spot" them while working out. His special training has enabled him to craft a workout regimen for all body types. He can employ varied exercise techniques to accomplish the goals, such as: Strength Training, Pilates, Kettlebells, Crawling Methods, TRX, and continues to seek out and learn new and exciting techniques as they become available.
William Byrd is a sought after personal trainer of celebrities and models, and in fact is often hired to travel to them in order to provide his expertise so they will look their best for Red Carpet events, fashion shows, TV Appearances, etc. He is very passionate about what he does, and offers a Guarantee of Performance. Some clients approach William seeking weight loss, cardiovascular enhancement, or even nutritional counseling. He empowers clients with knowledge, drive and discipline so that they can take control of their own fitness goals.
The best investment anyone can make is an investment in their health and wellbeing. William has several Fitness Packages that he offers, besides custom tailoring plans as per the client's specs. It's all about the transition into a more healthy lifestyle, and William shows clients how small changes in their everyday lives help put them on the path to fitness success. Some people are looking for "Boot Camp" type results, and William has such a plan, and he even prepares nutritious meals himself. One of his popular plans is for Brides & Grooms to be, so that will look their best on their Wedding Day. The Top of The Line Plan is his "Red Carpet Fit" plan. This is an ultimate fitness plan where he becomes the client's personal chef, nutritional supplement coach and personal trainer. At the end of each day, William likes to reflect on how he has helped his clients achieve their fitness goals.
For complete information, please visit: William Byrd Strength & Fitness
Media Contact:
Byrd Strength & Conditioning Fitness
Attn: Media Relations
195 Binney St.
Cambridge, MA 02142
206.317.1581
info(at)byrdscf(dot)com