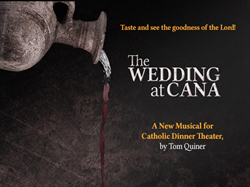 This musical will be performed in a dinner theater format.
Des Moines, Iowa (PRWEB) October 13, 2014
Catholic composer and evangelist, Tom Quiner, has launched a Kickstarter Campaign to fully fund a new musical, The Wedding at Cana, which is designed to be performed as Catholic dinner theater.
Quiner calls this interactive musical Evangelization through Entertainment.
"The Catholic church has many great tools at its disposal to teach people about their faith," commented Quiner. "The Wedding at Cana is fun way to bring this particularly rich scripture passage alive. The dinner theater format is a great way to build community. Even more, it is a comfortable way to invite non-Catholics and fallen-away Catholics back to church."
The Kickstarter campaign will fund a high quality package of performance tools, which will serve two purposes. The first is to create a polished production for local performances in the Des Moines, Iowa area. Five performances are scheduled during Lent in 2015.
The second is to export the Wedding at Cana to dioceses and churches throughout the nation using the performance tools to facilitate local performances.
The goal of the Kickstarter campaign is to raise $15,000 by October 26th. Kickstarter is all or nothing. If the campaign doesn't hit its goal by the deadline, no funds are collected or distributed.
With 14 days remaining in the campaign, the Cana Kickstarter Campaign has passed the halfway point. Learn more at http://www.CatholicDinnerTheater.com.
Contact: Tom Quiner
e-mail: tom(at)bmi-info(dot)com
Phone: 515-689-9266 (cell)
Kickstarter Link: https://www.kickstarter.com/projects/204249773/the-wedding-at-cana-musical
###
About Tom Quiner: Tom Quiner has written/co-written 9 faith-based productions. His last piece, "The Pope of the People, the John Paul II Musical," was performed in 8 churches as part of the Des Moines Diocesan Centennial Celebration. He and his wife, Karen, own Breakthrough Marketing, Inc.