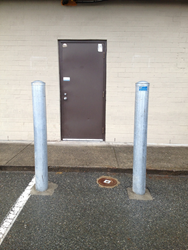 Bollard covers by QS Fencing are an easy product to install.
Vancouver, BC (PRWEB) October 12, 2014
Vancouver fencing company, QS Fencing, has recently announced that it now provides bollard covers for businesses and other entities. These short vertical posts are strategically placed outside buildings and on roads to either let only pedestrians pass through or to let certain kinds of vehicles, such as bicycles, to pass it. As a result, they act as a barrier or a selective entry-way for a building, street or house. The purpose of QS Fencing's bollard covers is to enhance and protect the bumper post steel bollard and to make it weather resistant. Since bollard covers provided by the Vancouver fence company come with a warranty, customers can be confident that the product is of the highest quality.
"Bollard covers by QS Fencing are an easy product to install," states a company representative. "It can be used to anchor your boat or ship in a port marina or to control road traffic. A common place you would see a bollard would be on a pedestrian street to block cars from entering or strategically spaced placement of a bollard to allow for only a bicycle to pass through on a path or road. QS Fencing will work with you to determine the type of bollard you need. We will help you implement the best bollard placement solution to ensure that you pick the right product to suit your budget and needs."
About QS Fencing
Established in 2010, QS Fencing is a young family-owned business that aims to provide quality products and superior service. It is a Vancouver Fencing Company that is licensed and insured. All of their employees are WCB insured as well. QS Fencing serves the geographical areas of Vancouver, West Vancouver, North Vancouver, Burnaby, New Westminster, Coquitlam, Port Coquitlam, Port Moody, Maple Ridge, Richmond, Surrey, and Delta, BC.
To place an order at QS Fencing, visit http://www.qsfencing.ca or call (604) 345-5145.