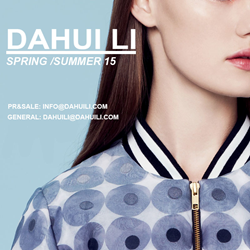 New York, New York (PRWEB) October 14, 2014
After moving to the US at a young age, Dahui Li pursued his love for fashion design and continued to hone his artistic talents.The age-old adage that working hard in your earlier years can pay off as you grow older is an idea which has stuck with Dahui since his youth. He has learned much from his work experiences in the fashion industry and refined his techniques while studying fashion design at the Columbus College of Art and Design. Dahui's ideals of dedication and persistence have remained with him as he has traveled to New York and London to work for such fashion designers as Oscar de la Renta, Jill Stuart, Leutton Postle and St. John Knits.
Eventually, Dahui Li realized that it was time to utilize his valuable experiences and couple them with his creative intuition to pursue his dream of starting his own fashion label. Dahui has since made New York his home, but allows the complexity and diversity of cultures that he has encountered throughout the US, Asia, and Europe to inspire his designs. Just as no two people are the same, Dahui Li feels that clothing should be as unique as the individual. He wants each woman to be able to express her own originality with his clothing line. As a reflection of Dahui's personality, the New York-based label has become an extension of the designer himself. His dedication to craftsmanship and an attention to detail are evident in the quality of his pieces.
An air of confidence exudes from the woman who chooses to don the Dahui Li pieces. She is striking and eye-catching, yet maintains an aura of subtlety through her effortless look. The designs of Dahui Li are devoted to changing the atmosphere of what women wear and creating an aesthetic that offers a refreshing take on women's styles.