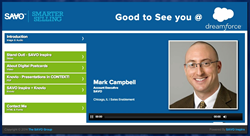 Visuals and video have been proven to be more effective and memorable. We're delighted to align with KnowledgeVision and make creating on-demand video presentations both simple and efficient.
San Francisco, California (PRWEB) October 13, 2014
Two industry trailblazers, KnowledgeVision Systems and SAVO Group, have teamed up to bring a new communications offering to the sales enablement market. KnowledgeVision, the leader in online presentation technology, is partnering with SAVO, the leader in SaaS-based sales productivity solutions, to make multimedia enhancements to SAVO Inspire. Designed to help capture the attention of prospects and customers, the solution empowers sales reps to effortlessly incorporate interactive video elements into their presentations and digital conversations. KnowledgeVision and SAVO are demonstrating the new, integrated offering this week at Dreamforce, booth #N1210.
Available immediately, the solution makes it easy to create and use video-enabled online presentations as a fundamental part of the sales process. It combines KnowledgeVision's Knovio apps with SAVO Inspire to help sales and marketing professionals create, send, track and measure personal multimedia communications. Detailed tracking and analytics inform the sender when the postcard is opened and exactly how the recipient interacts with the message.
Knovio is the quickest way to build rich, multimedia video presentations using nothing more than PowerPoint and a webcam or the built-in camera on mobile devices. In just minutes, a sales rep can upload slides, create video or audio narration synchronized to the slides, and publish it to KnowledgeVision's secure PresentationCloud servers, ready to be incorporated into SAVO Inspire. Knovio is available as an iPad app or through a desktop Web browser.
SAVO Inspire, a leading digital postcard solution, arms sales reps with the tools necessary to rise above the crowd and deliver an engaging and interactive digital conversation. The award-winning solution incorporates visual media, delivers deep analytics, and has been proven to drive an email open rate an average of six times higher than traditional HTML emails, and increases time spent on that message an additional six-fold.
Click here to see an example of a Knovio-enabled SAVO Inspire digital postcard, or point your browser to my.savoinspire.com/kv-intro.
Comments on the News:

"We're impressed with the way SAVO's digital postcards break through the noise that often impedes sales conversations. Quite simply, nothing else comes close," said KnowledgeVision CEO Michael Kolowich. "Knovio adds a new, hassle-free way for the average person to build engaging multimedia content as an integral part of these postcards, which are opened as much as 30 percent more often than the typical text-based message."
"Presentations are a key communications channel today, but sales reps need to be sure they're not diluting their message with too much text. Visuals and video have been proven to be more effective and memorable, so we've taken strides to further incorporate this interactive element into our solutions," said Kurt Andersen, CMO, SAVO. "As part of this, we're delighted to align with KnowledgeVision and make the process of creating on-demand video presentations both simple and efficient for our customers. Over the next year, we plan to work with KnowledgeVision on an array of new features for our entire solution suite."
About KnowledgeVision
KnowledgeVision Systems is reinventing the business presentation for an online, on-demand, video-enabled, mobile, anytime/anywhere world. A venture-capital backed company based near Boston, KnowledgeVision offers a Software-as-a-Service solution that makes it easy to create, share, and track online presentations.
About SAVO
Founded in 1999, SAVO enables its clients to drive sales productivity improvements through its on-demand sales enablement platform, which maximizes the sales team's ability to communicate value and differentiation in clear, consistent and compelling ways. Combining proven sales and marketing best practices with award-winning technology, SAVO addresses all aspects of the sales enablement challenge — spanning people, process, insight and technology. For more information, visit http://www.savogroup.com or follow us on Facebook, LinkedIn or Twitter.
KnowledgeVision, Knovio, and PresentationCloud are registered trademarks of KnowledgeVision Systems Incorporated.