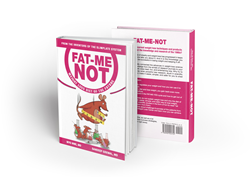 "When you understand what's happening at the gut level, literally, you can craft a weight loss strategy that works with your body,"
Rock Hill, South Carolina (PRWEB) October 14, 2014
A greater understanding of the human mind and body is leading many weight loss experts to reevaluate their methods, according to Dr. Myo Nwe, the founder of The Ace Medical Weight Loss Center in Rock Hill, South Carolina.
In her new book "Fat-Me-Not", Dr. Nwe explores many of the purported breakthroughs and innovative diets that have gained traction, and how such approaches fair in the face of new findings.
"Science is removing a lot of the myths," Nwe writes, "Pills and fad diets usually dabble in science, they'll typically have a kernel of truth to them. What they don't often address is the underlying physiology. It's the equivalent of putting a Band-Aid on a bullet wound."
Dr. Nwe says the entire weight loss field is adapting to new science, driving people away from methods like juicing and counting calories. Her book "Fat Me Not" explores how understanding the chemical manipulations of the human gut bacteria has dis-proven the effectiveness of some popular methods.
"When you understand what's happening at the gut level, literally, you can craft a strategy that works with your body," Nwe explains. "Most of the fads and pills out there fail because they're trying to forcibly rewire the body."
Nwe's book also examines the psychology of weight loss, specifically looking at several case studies involving patients. Rather then exclusively sharing success stories, "Fat Me Not" looks at the ups and downs of weight management, and the common frustrations that can hinder progress.
In the coming years as the science continues to expand, Dr. Nwe expects great changes among dietitians and other health professionals.
"A lot of these misguided efforts will lose considerable popularity as emerging scientific and physiological understanding of the human body.
Her book is available this fall at http://www.fat-me-not.com