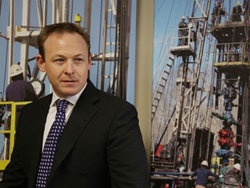 "There is a lot for our company to be proud of," said Conway. "We have recently launched our Fortis4Vets hiring program as well as our Fortisafe™ Certification program."
Bloomfield Hills, Michigan (PRWEB) October 13, 2014
The award recognizes 40 business leaders under age 40 who have made major advancements in their respective fields.
Nathan's stellar career in the oil and gas industry began in the oilfields of North Dakota. From there he moved to Michigan where he served as COO of an oil and gas exploration, production and oilfield services company before taking over Fortis Energy Services, Inc., as CEO and transforming it from a small, privately held Michigan oil and gas well services company into to a company with a growth strategy that spans across each of the major shale plays within the next few years.
Conway expanded Fortis' operations into the major shale plays across the US, including North Dakota, West Virginia, Pennsylvania, Ohio, Illinois and Indiana. To meet the demands of this expansion, new equipment was recently added to the fleet, offering customers turn-key service packages.
"I'm honored and humbled by this recognition from Crain's," said Conway. "I feel appreciative to my executive team and all our employees for their unwavering dedication to the company and its continued success."
Under Conway's leadership, Fortis has been recognized as one of the top 100 Energy Companies in the US and one of the Fastest Privately Held Companies by Inc. Magazine. Fortis Energy Services is currently a finalist for the "Rising Star Company" award in the prestigious Platt's Global Energy Award competition.
"There is a lot for our company to be proud of," said Conway. "We have recently launched our Fortis4Vets hiring program as well as our Fortisafe™ Certification program."
Conway takes the responsibility of safeguarding the health and safety of employees and clients alike very seriously and has established a robust safety program. Performing operations with zero incidents is the sole focus of the Fortis Energy Services organization.
Conway holds a Masters of Business Administration, University of Michigan. He currently resides in Bloomfield Hills, MI with his wife Molly.
About Fortis Energy Services
Fortis Energy Services, Inc. is a leading oil and gas well services company in the USA, providing oil and gas well services throughout the production life cycle of the well. Fortis' safety culture sets them apart as a leader in the industry. Quality people and quality work contribute to Fortis' exceptional success rate. A well-maintained fleet combined with highly experienced professionals has enabled Fortis to establish strong customer relationships and an excellent safety record.