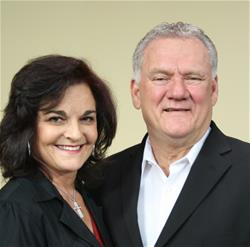 Bloomfield Hills, Michigan (PRWEB) October 15, 2014
After 30 years of dedicating their lives to building an organisation that is helping Africans partake in their own development for future generations, JAM International Founders, Peter and Ann Pretorius' love for Africa has not diminished, but has grown.
It is therefore no surprise that this couple has been nominated for an international Humanitarian of the Year Award. This award, hosted by AidEx, was launched to recognise and celebrate individuals from any area of the global humanitarian and development aid community that have distinguished themselves as role models and agents of positive change.
Currently in its fourth year, AidEx is comfortably a leading platform linking the international aid and development community with the private sector in an effort to improve aid delivery. AidEx was created to help the international aid and development community engage the private sector on a neutral setting, drive innovation and support the ever-growing need for emergency aid and development programmes to be as efficient as possible.
For this couple, this nomination is particularly timely since JAM celebrates its 30th Anniversary this year. Being in the spotlight and receiving accolades are far removed from JAM, and Peter and Ann's, vision of Helping Africa Help Itself, yet such recognition brings with it greater awareness of JAM's significance as a major role player in the humanitarian sector.
"The very fact that we have been nominated is already an achievement which we greatly appreciate and we hope that this nomination highlights the plight of the African people who JAM assists," says Ann. The reason JAM has been able to grow so much over the years is because the organisation provides everyone the opportunity to participate in something simple, yet with miraculous results for the less fortunate.
The story of how JAM was established is inspirational. Peter and Ann founded JAM in 1984 after Peter had a life-changing experience in Mozambique. While stranded at a refugee and food distribution camp in Vilankulos, Peter witnessed shocking hunger, poverty and death. Following this traumatic 10-day experience, Peter resolved to dedicate his entire life to providing relief to and empowering impoverished communities in Africa. With the unwavering support of his wife, Ann, they established JAM.
Today, the organisation that began as a relief feeding effort has transformed into an international humanitarian and development organisation that assists more than 1.1 million beneficiaries daily through its nutritional feeding programmes.
JAM's projects also include agricultural development, orphans and vulnerable childcare, skills development, water, sanitation and hygiene. In Africa, JAM runs programmes in Mozambique, South Africa, South Sudan, Rwanda and Angola.
JAM has support offices in South Africa, USA, Switzerland, United Kingdom, Germany and Canada
Peter and Ann received the news of their nomination as they were preparing to leave South Africa for a six-week international Affiliate and donor trip to further expand JAM's footprint globally.
Of all the entries received worldwide, only five nominees have been selected as finalists for this worthy award, which is an indication that Peter and Ann are an inspiration to thousands. Their empathy and generosity have assisted them to become honourable leaders, who are solidly rooted in their values and beliefs.
The winner(s) will be determined through a voting process.
To vote for Peter and Ann, please visit the AidEx website and simply fill in your name and email address. Voting closes on Monday, 27 October, and the winner(s) will be announced at the AidEx on Wednesday, 12 October in Brussels, Belgium.
Voting link: http://aid-expo.com/brussels/visit/peter-and-ann-pretorius-founders-joint-aid-management
Notes to the editor
Peter and Ann Pretorius are available for telephonic or electronic interviews about their nomination and about JAM, as they are currently traveling abroad until mid-November.
For more information, please contact Thobile Zulu (please see details below) and/or visit http://www.jamint.com