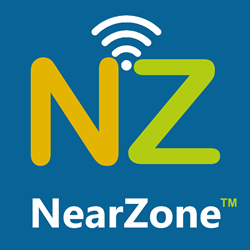 For those teachers corralling dozens of grade schoolers out on a field trip, NearZone provides a quick means of connecting with their chaperones
Rock Hill, South Carolina (PRWEB) October 16, 2014
A new mobile app that helps connect people through their smartphones without making actual calls is being touted for how it can help teachers on large school field trips.
The NearZone app utilizes Bluetooth technology along with the base receivers and transmitters in smartphones. The app is able to send messages and locate other users, even without an active WiFi signal.
With the app, people in the same general area can communicate through their phones without having to make full phone calls. On school fields to large museums, for example, NearZone can be used to help coordinate groups, allowing several chaperones to easily stay in touch.
"Anywhere large groups of people are gathered together," said Developer Ms Nwe, "the app can be used to quickly share information on-site. No need to log into social media or make several calls. This is instant and easy."
The proximity in which the app functions, is adjustable, and according to its designers its uses are practically limitless.
"We're always hearing of new ways people can put it to use," said developer Nwe. "From family reunions to corporate conferences, it allows people to effortlessly reach several people. Nothing has to bounce off a satellite or even be routed through network. It's all local right in the phone itself."
The app was initially developed mostly as a social feature, but soon its many practical uses became more and more apparent. It is frequently used in large transportation hubs like airports and rail stations where groups can easily get separated.
For those teachers corralling dozens of grade schoolers out on a field trip, NearZone provides a quick means of connecting with their chaperones. This can help the entire group stay on their schedule, and can ease the process of gathering everyone together at the end of the day.
"That's the type of uses we love to hear about," says Nwe, "those very practical ways the app can help people that we'd never really considered."