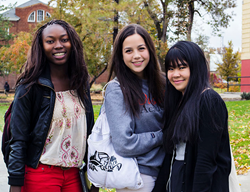 I want all girls I work with to walk away from our interactions knowing that they are heard and valued; to feel empowered to use the voice they were given.
MOUNT PLEASANT, Utah (PRWEB) October 13, 2014
Week of the Girl has become an annual tradition at Wasatch Academy. Inspired by Maya Angelou's poem, 'Still I Rise', Lori English and Maggi Quackenbush, counselors at Wasatch Academy, have developed an expanded curriculum to help young women feel empowered.
"This entire initiative is a personal one for me." Lori English said. "I am one of four daughters. I am a mother of twin girls. I was taught to speak up and speak out."
Week-long activities include daily themes.
Day One: Walk a Mile in her Shoes
Day Two: Innovate to Educate
Day Three: Dating Violence
Day Four: Wacky/Happy Dress
Day Five: Body Positive
Friday evening, October 17th, will conclude the week-long event with key-note speakers Lexie Kite, PhD, and Lindsay Kite, PhD, 28-year-old identical twin sisters with PhDs in the study of media and body image from the University of Utah ('13). More information is available about their foundation on their website.