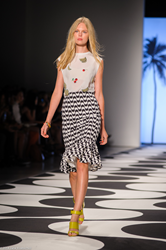 I was inspired by Brazil, and the Copacabana sidewalk and all the flora. -Nicole Miller
New York City, New York (PRWEB) October 13, 2014
American fashion designer Nicole Miller has been a household name since the mid-1980s, and with her latest collection of stunning designs it's no wonder the designer took the runway by storm at September's Mercedes-Benz Fashion Week. When interviewed by FashionMingle.net Style Editor and fashion blogger Shalanda Turner about the inspiration for the vibrant Spring / Summer 2015 Collection, Miller commented, "...I've been to Brazil a few times and I was listening to this old Peter Alan song and it said "I go to Rio" and I was feeling nostalgic about it."
Miller's inspired pieces maintained the classic silhouette fashion enthusiasts know the designer for. Although her signature looks dazzled New York Fashion Week guests, it was the flirtatious hints of rosy pinks and arresting asymmetrical black lines on snow white fabrics that engaged them. "It's very colorful," said Miller of her collection, "It's on a backdrop of black and white. I was inspired by Brazil, and the Copacabana sidewalk and all the flora."
Further highlighting the fashion designer's influence, Turner reported to FashionMingle.net, "In addition to the famous promenade, Nicole was inspired by the flora and birds of Brazil and shared a memory with me of a foam rubber parakeet she purchased on the beach there and has kept till this day."
Miller's dresses varied widely, from their fit to their color. The classic little black dress in a form-fitting silhouette, hitting at mid-thigh, was paired with jet black, open-toe pumps, while a darling white dress was printed with jungle green leaves and paired with canary yellow strappy heels. Another piece that turned heads was the arrest-me-red dress with an asymmetrical, ruffled flair that fell above the knee, fit for a night of dancing on a moonlit beach.
Form-fitting dresses weren't the only focus of the fashion designer's Spring / Summer 2015 collection. Covered legs graced the runway, with pencil pants making a comeback. Wisps of Brazilian blue, dashes of brazilwood red, and delightful pops of sunshine yellow splashed against white fabric to show an air of whimsy, balanced by the clever sophistication of an ankle-covering length.
Staying true to her cultured inspiration, Miller's models donned dramatically contrasting colors for lips, eyes, and hair. Shoulder-length manes were bleached into a sun-washed blonde and paired with the signature sun-kissed skin the world associates with the modern day Brazilian beauty to create look that demanded attention. A light pink lip and brown-lined eyes completed the look, and had the crowd ready to jet-set to Brazil.
About FashionMingle.net
FashionMingle.net is a network for fashion entrepreneurs to share, discover, and mingle. The business directory and social network creates a PR platform for fashion entrepreneurs to promote their services and grow their business. More information can be found at FashionMingle.net.