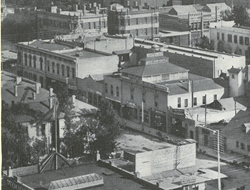 Los Angeles, Calif. (PRWEB) October 13, 2014
Exhibiting youthful vigor as the institution marks a milestone, Woodbury University embarks on its 130th year on a roll – with a new College of Transdisciplinarity, coveted AACSB accreditation for the School of Business, a top "value" ranking from Money Magazine, and a raft of accolades and honors for students and faculty alike, university-wide.
Kicking off October 13, this year's Woodbury Week – the university's version of homecoming – will include an unprecedented gathering of alumni, to celebrate the occasion with staff and faculty. Among universities in the region, only USC -- which was founded in 1880 – is older.
"It's fitting that on our 130th anniversary, we pause to reflect on how we've grown and changed along with this community," said Luis Maria R. Calingo, Ph.D., Woodbury president. "F.C. Woodbury founded the school at a time when the city was laying down its very infrastructure." In the 1880 census, the population of Los Angeles barely topped 12,000. Four years, later, it had more than doubled, to 30,000. By the end of the decade, Los Angeles was 50,000 strong. The local boom was on.
"The entrepreneurial spirit was everywhere, and that included Woodbury, who had spent the previous 17 years in San Francisco working for his brother-in-law and helping to run the first business college in California," Dr. Calingo noted. In 1884, F.C. headed south with the idea of repeating the feat in Los Angeles. The school opened in July of that year.
"If civic engagement was the university's first pillar, entrepreneurship ran a close second," he said. "F.C. Woodbury arrived amid the go-go days of the 1880s, in part to fill an obvious gap that existed during the region's financial renaissance: business education. And Woodbury University remains home to the oldest business program in Southern California."
Establishing one of the only colleges formed by a single individual – not by a religious order or groups of investors – F.C. Woodbury emerged as a trailblazer, albeit one whose personal association with the university was surprisingly brief. In 1891, just seven years after the school's founding, he sold the holding company that technically owned the school to faculty members. The name, however, stuck.
So did an especially forward-looking admissions policy, an innovation attributed to his wife. Mrs. Woodbury encouraged her husband to open the college's doors to both men and women, and advertisements from the period noted that the program was available to "men and ladies." In this, Dr. Calingo observed, Woodbury was clearly ahead of its time. While Oberlin College was the first in the nation to go co-ed, in 1833, it had little company throughout most of the 19th Century: the University of Iowa did so in 1855, followed by Cornell and Michigan in 1870.
Diversity was likewise a hallmark of the Woodbury experience from the outset. The school was open to all -- not just "the Yankee crowd," in the argot of the time. Emblematic was Adolfo Camarillo, a Ventura County horse breeder, rancher and later philanthropist whose family established the town of the same name.
The campus itself has had something of a nomadic relationship with Los Angeles, moving over time to accommodate the changing nature of L.A.'s business district. Aside from USC – which has remained in Exposition Park since its founding -- a number of other schools eventually relocated outside the central core, UCLA and Pepperdine among them. Still, Woodbury stands apart – the Glenoaks location is the school's ninth.
Added Dr. Calingo, "Of course, metaphorically speaking, Woodbury University is still very much on the move."
About Woodbury University
Founded in 1884, Woodbury University is one of the oldest institutions of higher education in Southern California. Woodbury offers bachelor's degrees from the School of Architecture, School of Business, School of Media, Culture & Design, and College of Transdisciplinarity, along with a Master of Arts (MA) in Media for Social Justice, Master of Architecture (MArch), Master of Interior Architecture (MIA), Master of Science in Architecture (MSArch), and Master of Leadership. The San Diego campus offers Bachelor of Architecture and Master of Architecture degrees, as well as an MSArch degree with concentrations in Real Estate Development and Landscape + Urbanism. Woodbury ranks 15th among the nation's "25 Colleges That Add the Most Value," according to Money Magazine. Visit http://www.woodbury.edu for more information.