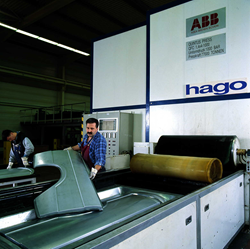 The press's productivity and reliability have been a driving force behind our growth. --Rainer Hack, Hago Feinwerktechnik
Västerås, Sweden (PRWEB) October 21, 2014
Hago Feinwerktechnik GmbH, the German sub-supplier to the automotive and commercial vehicle industries, has proudly passed the threshold of 1 million cycles on its Avure fluid cell press. This landmark event propels Hago into an exclusive group of global companies—including Premium Aerotech in Bremen (formerly Airbus), Bombardier in Northern Ireland, EADS in Spain, and Spirit Aerosystems in Wichita, Kansas, USA--that have observed the same milestone, a testament to the robust productivity offered by the sheet metal forming press.
The Avure Flexform™ technology is ideal for sheet metal prototyping and low-volume production, making it a perfect match for the aerospace industry, automotive prototyping, and commercial vehicle production.
For the past 20-plus years, the fluid cell press at Hago Feinwerktechnik, the 77,000-ton press force QUINTUS® press model having a table area of 1.4 x 4 m (55 x 157 inch), has been delivering great value to the company and its customers, particularly when lead-time requirements are tight, according to Hago Managing Director Rainer Hack.
"I have followed our business development since the initial installation of the press in the early 1990s. Its productivity and reliability have been a driving force behind our growth," says Mr. Hack.
"The demand for reduced lead time seems to be a never-ending scenario in the industry. The Flexform technology, combining short lead times and low tool cost, is therefore attractive to anyone involved in sheet metal prototyping or low-volume production," comments Sture Olsson, the Global Metal Forming Business Unit Director at Avure. "Maintaining great long-term relationships with our customers is also of the highest importance in Avure's daily business. We warmly welcome Hago into the exclusive 1 million cycle club!"
About Avure Technologies
An innovator with a strong record of accomplishment, Avure Technologies (formerly known as ASEA, ABB, and Flow), demonstrates its expertise in high pressure by occupying leadership positions in industrial and food applications. The company is the largest global provider of ultra-high pressure systems utilized to form sheet metal, to process advanced materials, and to pasteurize foods without heat or chemicals.
Avure has installed over 1,700 high-pressure systems worldwide, more than all other competitors combined. These systems are characterized by technically sound design, superior reliability, energy efficiency, low maintenance costs, and many years of experience. Many Avure presses have been in service for more than 40 years, and some have surpassed 1 million high-pressure processing cycles.
Avure Industrial Group headquarters in Västerås, Sweden, house equipment design, manufacturing, and support operations, with regional sales and support offices globally. Additional facilities, under the name Quintus Technologies LLC, are located in Columbus, Ohio, USA.
Read more about Avure Technologies: http://industry.avure.com
About Hago Feinwertechnik GmbH
Since its founding in Küssaberg, Germany, in 1970, Hago Feinwerktechnik GmbH has grown from a small tool-making and die shop with just two employees to a recognized expert in sheet metal forming with a workforce of more than 600. Production at the company's state-of-the-art facilities spans a broad spectrum, from parts the size of a paperclip to body panels for buses, in batch sizes from one to several million parts per year. As a growth-oriented enterprise, Hago continuously invests in employee development, equipment, and production technologies to meet the high-precision requirements of some of the most prestigious names in the automotive business.
Read more about Hago: http://www.hago-ft.de/en/index.php