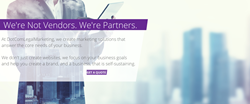 (PRWEB) October 13, 2014
DotComWebDesign, the premier marketing and advertising agency, is pleased to announce the launch of DotComLegalMarketing.com. With the launch of this new division, DotComWebDesign has created a dedicated website and team, to exclusively service law firms. With decades of combined experience, the team at DotComLegalMarketing.com have experience servicing lawyers in all practice areas, and a variety of sizes.
In order to help improve the visibility of DotComLegalMarketing, for a limited time it is offering 40% off website design, when done in conjunction with SEO services.
Any law firm interested in taking advantage of this limited time offer is encouraged to visit http://www.dotcomlegalmarketing.com
About DotComWebDesign
DotComWebDesign has over 10 years of combined experience doing design and development for small, medium, and enterprise sized companies. With an eye for detail, and an emphasis on lead generation, DotComWebDesign understands the needs of the every day business owner, and CEO, alike.