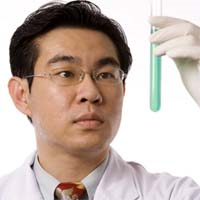 Napftopidil drastically suppressed tumor growth in mice...
Raleigh, NC (PRWEB) October 14, 2014
Japanese researchers say a medicine currently used to treat high blood pressure and certain prostate conditions may have the potential to treat malignant pleural mesothelioma. Click here to read the full article on the research, now available on the Surviving Mesothelioma website.
Respiratory medicine doctors with Hyogo College of Medicine in Nishinomiya, Japan tested the alpha blocker naftopidil (Flivas) on mesothelioma cells in the lab and in live mice.
Lead author Dr. Koji Mikami reports, "Naftopidil drastically suppressed tumor growth in mice inoculated with these cells."
The study, published in the journal Pharmacology, suggests that naftopidil may work by upregulating the expression of microRNA associated with mesothelioma cell death.
"Since other cancer-fighting drugs are only marginally effective against mesothelioma, we think the fact that naftopidil, an available drug, appears to stop tumor growth should be hopeful news for patients and families." says Alex Strauss, Managing Editor of Surviving Mesothelioma.
Learn more about naftopidil and the results of the latest study in Blood Pressure Drug May Offer New Hope for a Mesothelioma Cure, now available on the Surviving Mesothelioma website.
Mikami, K et al, "Naftopidil is useful for the treatment of malignant pleural mesothelioma", October 4, 2014, Pharmacology, Epub ahead of print, http://www.ncbi.nlm.nih.gov/pubmed/25301502
For nearly ten years, Surviving Mesothelioma has brought readers the most important and ground-breaking news on the causes, diagnosis and treatment of mesothelioma. All Surviving Mesothelioma news is gathered and reported directly from the peer-reviewed medical literature. Written for patients and their loved ones, Surviving Mesothelioma news helps families make more informed decisions.