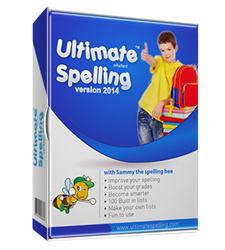 Teaching spelling is another activity people can do to sharpen their memory skills.
New York City, NY (PRWEB) October 15, 2014
eReflect urges everyone to give their memory a little push with a spelling practice session once in a while. Cognitive practices like spelling can help promote better long-term memory and help people become faster at recalling information in their day to day activities.
eReflect is the developer of what many reviewers have named the best spelling software on the market, Ultimate Spelling™. The software can help people to not just master English orthography but also sharpen their long term memory. Spelling is a cognitive learning activity that engages multiple brain modules and functions: memory centers, kinesthetic capacities, phonological processing, and syntactical and other linguistic information. When learning to spell any given word, all these modules are activated, and long term memory is then accessed each time people need to type or write down that word.
As eReflect explains, while this process is largely automated in the brain, it is nonetheless a rigorous and demanding cognitive function. Spelling can be easily used to help promote better long-term memory in people. Since spelling engages information processing and language processing in more than one brain module, it's only natural that by practicing spelling a person is also improving their memory capacity and function.
Practicing methods that help a person learn to spell does not guarantee a better memory, but such study might offer a helping hand to those with a deteriorating long-term memory due to aging and cognitive decline. The mere act of putting together kinesthetic, memory-related, and linguistic knowledge of words at the same time is a cognitively demanding activity that exercises the memory and helps the brain get or remain fit.
Some studies have linked spelling to early signs of decreased mental function, especially in an aging population. Commonly misspelled words such as "leprecan" and "airloom" may denote a lack of attention, but they may also indicate a poor long-term memory where the retrieved word has gotten all garbled up.
Teaching spelling is another activity people can do to sharpen their memory skills. In order to teach spelling, a person must first store the photographic depiction of a word in their heads so when someone speaks that word they can instantly recognize it and reproduce it. In the same manner, when they need to write a word down, this word image comes up in their head. For teachers and students alike, spelling practice ensures that the right spelling of a word flashes in their brain. This photographic-like storing of linguistic information is an excellent practice for people wanting to maintain a healthy long-term memory, as eReflect concludes, and it is something that can be achieved with regular spelling practice.
***********
For more information about how Ultimate Spelling software can improve spelling performance for you and your family, please visit the official website at http://www.ultimatespelling.com.
About Ultimate Spelling™
Ultimate Spelling provides a modern and easy to use spelling software that has been designed with one goal in mind – making children want to learn.
It is a fast and easy way to master even the most complicated spelling, without the need to write long lists or complete boring tests.
In fact, Ultimate Spelling provides more than just spelling help. It is a complete educational resource that boosts all level of a child's literacy.
Containing a personal computer tutor, Ultimate Spelling is the most realistic step-by-step guide to flawless spelling ability.