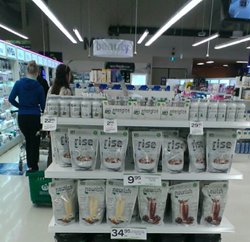 "As we secure new distribution deals with established partners, we are equally thrilled for the opportunity to help more people eat and live better with the beauty of SystemLS™."
London, United Kingdom (PRWEB) October 14, 2014
Read: Spanish Version | German Version
Increasing access to good health and good nutrition across the globe, Rapid Nutrition continues to expand to new countries as well as new fans worldwide. The organic healthcare company is shining with new distribution in Vietnam, through Shine Resources, a healthcare-based organization dedicated to innovative supply chain strategies in pharmaceutical sourcing, trading and marketing. Rapid Nutrition recently participated in International Festival of Natural products and Functional foods in Vietnam, a three-day exhibition which drew a wealth of interest to one of its flagship product lines called Leisa's Secret®, a set of scientifically formulated weight loss and maintenance supplements.
In addition, Rapid Nutrition has entered into discussions with Ceremugil®, a well-regarded healthcare manufacturer that will distribute its recently developed SystemLS™ product line, a set of 6 scientifically formulated lifestyle products throughout Spain. With more than 100 years of experience, Ceremugil® is recognized across Europe for the high quality of its vitamins and supplements.
"Rapid Nutrition's expansion and growth has been nothing short of rapid and impressive," said Rapid Nutrition CEO and founder Simon St. Ledger. "As we secure new distribution deals with established partners, we are equally thrilled for the opportunity to help more people eat and live better with the beauty of SystemLS™."
The company's thriving global presence now includes:

Admission to the Frankfurt Stock Exchange in June, where the stock price increased nearly five percent on its first day of listing;
Successful expansions and exports to the United States, China, India, Korea and the United Kingdom as well as many neighbouring countries.
Continued growth throughout its home base of Australia, where the product range was approved by Australia's supermarket giant, Woolworth's. Rapid Nutrition also won the Queensland's Export Awards 2013 in the small business category.
Developed by former police officer, Leisa St. Ledger, the SystemLS™ lifestyle system, which underwent rigorous testing, focuses on getting "slim with science" with natural, organic ingredients that support real weight loss.
About Rapid Nutrition
Rapid Nutrition is a natural healthcare company focused on the research, development and production of a range of life science products. The company was established based on its successful and proven weight loss supplement range which is exported worldwide and now offers consumers a growing range of health and well-being solutions to meet existing and emerging societal health concerns, as well as a providing number of wider services to the life sciences industry. For more information, please visit http://www.rnplc.com