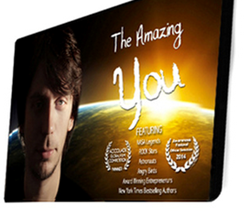 Aspire to succeed and let the film "THE AMAZING YOU" inspire and inform your next steps toward actualizing your dreams.
Los Angeles, CA (PRWEB) October 14, 2014
"The Amazing You" is the award winning inspirational movie produced by Dr. Drago Bratasanu and is available today for teachers, classrooms, corporations and individuals wishing to live life successfully accomplishing their small and large dreams and goals. Today on Dr. Carol Francis Talk Radio, Dr. Bratasanu describes the steps of rising above the groans and roadblocks inherent during each project, and he discusses how to create what comes "from the depths of your heart."
About the movie "The Amazing You" and producer Dr. Dragos Bratasanu:
Dragos Bratasanu illustrates steps to help find your success, passion and mission, which will fulfill your days. His formula is also the formula of Class A professionals and corporations. "The Amazing You" reveals the ideologies of successful professionals including NASA professionals such as Dr. Ed Hoffman, the Chief Knowledge Officer for NASA in Washington DC. Musician Steve VAI also explains the power of our minds to create our worlds. Visioneer and inspirational author and speaker Gregg Bradden empowers listeners with tested practices of this new era of creativity. Innovator of Angry Birds, Peter Vesterbacka, discusses the art of following the path which dreams and ideas lay out. The amazing Chief Marketing Officer of ROVIO, and HeartMath's Steve Martin examine the harmony of following one's heart desire as truly a biological and soulful calling.  
Drago Bratasanu's movie, The Amazing You  is available at this link (click here). "The Amazing You" will appeal to children, teens, adult children, co-workers, students, clients, patients, and career-changing friends, and spouses. Watch over and over until the wisdom of this movie and the practicality of its suggestions seep in deeply," suggests Dr. Carol Francis. 
"The Amazing You" wins Global Film Competition Award of Excellence:
 
"The Amazing You" movie receives The Accolade Global Film Competition Award of Excellence for Education. The global content recognizes productions who contribute to profound social change. In winning the Accolade, Dragos Bratasanu joins other high-profile winners of this internationally respected award. 
"The Accolade is not an easy award to win. Entries are received from around the world from powerhouse companies to remarkable new talent. The Accolade helps set the standard for craft and creativity. The judges were pleased with the exceptional high quality of entries. The goal of The Accolade is to help winners achieve the recognition they deserve." - Rick Prickett, Chair of The Accolade Global Film Competition
Contact information:
dragos(at)successengineer(dot)org
http://www.successengineer.org
http://www.TheAmazingMovie.com
skype: dragos.bratasanu
Dragos Bratasanu, Ph.D.
President, Success Engineering Corp.
Dramatically Increasing Performance of Leaders & Teams with Documented ROI
As Featured in National Geographic & The Amazing You movie
"The results achieved and feedback from some of the major players in the aerospace business confirm the added value when team building follows Dragos's guidelines" - Frank Chapman, Test Pilot for AIRBUS A380 and AIRBUS A350
About Dr. Carol Francis:
Dr. Carol Francis, Clinical Psychologist, Marriage, Family & Child Therapist and Life Coach and Certified Medical Hypnotherapist, has 37 years invested in helping individuals, families and corporations who wish to engineer humanely, respectful relationships and accomplish dreams resulting from personal transformations. Dr. Carol Francis can be contacted at 310-543-1824 or through drcarolfrancis.com or drcarolfrancis(at)gmail(dot)com.