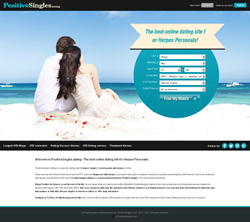 PositiveSingles.dating
(PRWEB) October 14, 2014
Top1: STD Q & A (live counselor) - This service is completely anonymous and confidential. All members can ask questions about STDs here, and an STD counselor will reply to each one. All members can share their advice also.
Top2: STD inspirational stories - All the stories are shared by real people. Users can gain the confidence to manage STDs in daily life from these stories about living with STDs. Users can do it anonymously.
Top3: Live Dating Advisor - Ask questions about dating and safety and discuss emotional or psychological issues here.
Top4: "Quick Exit" button - Redirects users to another site quickly to ensure privacy. Users don't have to close the entire window if someone walks by while they are on PS.
Top 5: Private Album - Allows members to discretely store their photos and only share with those they chose to.
Top 6: STD Treatment Stories - Here, members can share their STD treatment stories and read others' stories. All these shared stories were contributed by real people on the site. It can even be anonymous!
For more details, please check PositiveSingles.dating.