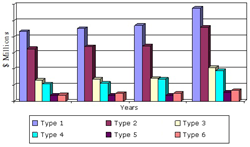 Global Market for Nanoparticles Instrumentation to Reach About $7.8 Billion by 2019
(PRWEB) October 13, 2014
Wellesley, Mass., October 13, 2014 – BCC Research (http://www.bccresearch.com) reveals in its new report, GLOBAL MARKETS FOR NANOPARTICLE SIZE ANALYSIS INSTRUMENTATION IN THE LIFE SCIENCES, the global market for nanoparticles instrumentation in life sciences is expected to reach to about $7.8 billion by 2019, with a compound annual growth rate (CAGR) of 5.7% for the five-year period, 2014 to 2019. Particle characterization will record the highest CAGR growth of 8.4% for the forecast period.
The biggest increase will come in the area of supplying instrumentation to companies in the pharmaceutical and biotechnology segments. As nanoparticle drug products complete clinical trials and gain U.S. Food and Drug Agency (FDA) market approval, there will be an increase in the requirement for analytical equipment to support production of these drugs. Growing health concerns in developing countries are expected to continue to contribute substantially to market growth for biopharmaceuticals. Sustained growth is expected in emerging geographies, driven by the health awareness of the burgeoning middle class in emerging countries such as India, China, Brazil, and Russia.
"At present, the U.S. holds the largest number of patents in the nanoparticle area," says BCC Research biotechnology analyst, Jackson Highsmith. "This is largely due to the early commercialization of some nanoparticle products by U.S. companies. It also reflects a larger contribution to the research and development of new ideas by American companies than by those in most other countries."
GLOBAL MARKETS FOR NANOPARTICLE SIZE ANALYSIS INSTRUMENTATION IN THE LIFE SCIENCES provide an overview of the various types of instrumentation currently on the market for nanoparticle analysis and highlight new advances in this area. This report projects the trend that the life sciences nanoparticle analytical instrumentation business will experience over the projected five-year period of 2014 to 2019. It also projects the eventual recovery of the business to more moderate growth rates.
Editors and reporters who wish to speak with the analyst should contact Steven Cumming at steven.cumming@bccresearch.com.
About BCC Research
BCC Research publishes market research reports that make organizations worldwide more profitable with intelligence that drives smart business decisions. These reports cover today's major industrial and technology sectors, including emerging markets. For more than 40 years, we have helped customers identify new market opportunities with accurate and reliable data and insight, including market sizing, forecasting, industry overviews, and identification of significant trends and key competitors. We partner with analysts who are experts in specific areas of industry and technology, providing unbiased measurements and assessments of global markets. Our clients include the top companies in industries around the world as well as universities, business schools, start-ups, consulting firms and investment companies. BCC Research is a unit of Eli Research LLC. Visit our website at http://www.bccresearch.com. Contact us: (+1) 781-489-7301 (U.S. Eastern Time), or e-mail at information@bccresearch.com.
Data and analysis extracted from this press release must be accompanied by a statement identifying BCC Research LLC, 49-2 Walnut Park, Wellesley, MA 02481, Telephone: (+1) 781-489-7301; Email: editor@bccresearch.com as the source and publisher. Thank you.