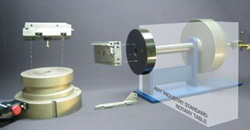 Willoughby, OH (PRWEB) October 14, 2014
Rimeco Products, Inc. of Willoughby, OH is celebrating the 10 year Anniversary of SSEWW; Single Second Exchange of Workholding and Workpiece. Rimeco first introduced SSEWW as a lean manufacturing concept based on The Kwik-Clamp, their proprietary quick-change work holding system. Since then, SSEWW has developed into a proprietary process used inside of Rimeco for contract machining.
Rimeco has continued to develop and refine the SSEWW process, leading to drastic improvements of its machining processes. All of their machining processes have had set-up and cycle times reduced by as much as 50 percent, using the SSEWW process. Today the process to machine aircraft engine and other components looks completely different than it did 10 years ago.
Through collaboration with management and personnel, Rimeco has used the principles of SSEWW and "Combinative Manufacturing" to standardize the way it creates manufacturing processes. Co-owner John Ribic, Sr. says "the SSEWW process has made us re-think everything we do; from the types of machines we purchase, to the equipment on the machines, to the type of material we purchase and how we purchase them". "It has completely changed the way we think, develop and continually improve our processes and has led to huge savings for us and our customers". Rimeco is continuing to further improve on the process and has a goal of making it a Process Maturity Level 5 process.
Rimeco Products, Inc. is a manufacturer of CNC Machined components for aircraft and aircraft engines. They have CNC Turning and Milling capabilities and are AS9100 Certified. With a specialty in the machining of Tee Tubes, Elbows, Unions and Fittings from Stainless Steel and High Nickel Alloys, they use trade secret, proprietary processes that allow them to produce these parts at a substantial savings of cost and time. Using the proprietary SSEWW process, along with single day flow, they have been able to reduce lead-times on new parts to as low as one week.