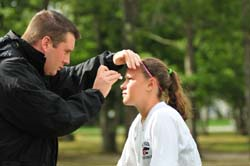 PATS continues to lead the charge on player safety, community education and parental guidelines when it comes to safe sports. States Linda Mazzoli
Harrisburg, PA (PRWEB) October 14, 2014
The Eastern Pennsylvania Youth Soccer Association (EPYSA) in an effort to better educate the youth and parents of the member soccer players created a Medical Advisory Committee. "In youth sports we face an ever widening range of issues regarding the health and safety of our young athletes. Regardless of the issues being simple or complex, it's the mission of Eastern Pennsylvania Youth Soccer to provide the necessary services and education to our constituents," stated Chris Branscome, Executive Director, EPYSA.
The committee will be charged with promoting education among parents of the 130,000 youths that are involved in the program as well as the coaches for the teams. The committee is comprised of medical doctors, athletic trainers, physical therapists and a psychologist with backgrounds in youth soccer. The EPYSA has asked two athletic trainers who are members of the Pennsylvania Athletic Trainers Society (PATS) to serve on this committee and they are Linda Mazzoli, MS, LAT, ATC, PTA, PES and John Moyer, LAT, ATC.
John Moyer is the Head Athletic Trainer for the Wilson School District in West Lawn, Pennsylvania. He currently serves as the President of PATS. Linda Mazzoli is the Executive Director of PATS and is employed at the Rothman Institute in Philadelphia as Director of Jefferson Comprehensive Concussion Center. Both work with athletes on a daily basis and have expertise in sports medicine injuries.
"As a long time secondary school athletic trainer, I feel I can provide insight into concussion management, injury prevention, performance enhancement, hydration and heat acclimatization programs that need to be developed and implemented. By using the guidelines of the Safety in Youth Sports Act, I feel this committee can start by creating a concussion management program designed for all youth involved in EPYSA youth soccer," stated John Moyer, PATS President
PATS Executive Director Linda Mazzoli stated, "PATS continues to lead the charge on player safety, community education and parental guidelines when it comes to safe sports. EPYSA is at the forefront of player and coach initiatives on safety within soccer. Reaching out to EPYSA was an easy conversation for PATS. It was not "if we could do this", it was how soon can we do this? EPYSA has individuals willing to safely progress the sport of soccer, while keeping informed on the latest information and preparing for potential risks. It has become a natural fit for PATS to work side by side with them on these initiatives."
EPYSA Executive Director Chris Branscome summed up the goals of the Medical Advisory Committee by stating, "The goal is to enhance player safety, promote health and wellness, and reduce the incidents of injury to the best of our ability. We seek to provide guidance to our member organizations and to the individual families on trending and impactful issues such as concussions, overtraining, nutrition and safe return to play protocols, as well as assist with creation of curriculum, policy and procedure.
For more information regarding this topic or to schedule an interview with PATS President John Moyer LAT, ATC, please contact Linda Mazzoli MS, LAT, ATC, PTA, PES. She is PATS' Executive Director. She can be reached at patsexecutivedirector(at)gopats(dot)org.
The Pennsylvania Athletic Trainers' Society, Inc. is a progressive organization of licensed health care professionals who work under the direction of a licensed physician. Our society continues to increase public awareness and education regarding Athletic Trainers and the Athletic Training profession while serving as the premier source of information for public safety, injury and illness prevention, early intervention, patient care, and healthcare delivery for the physically active in the Commonwealth.
"The Keystone to a Healthy and Physically Active Life"