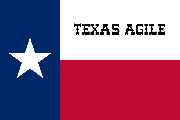 "We shall be festive and learn!" - Nancy
(PRWEB) October 13, 2014
BeardedEagle invites the community and professionals to a discussion of "What is ScrumBan?" on Tuesday, October 14th hosted by Texas Agile, a Scrum User Group that promotes the values and practices of Agile software development in the Dallas Fort-Worth metroplex. Participants can sign up online at http://www.meetup.com/Texas-Agile/events/204732692/.
This free event starts at 6:30pm and will be held at the BeardedEagle Training Labs, 2080 North State Highway 360, Suite 260, Grand Prairie, Texas, 75050. Refreshments and networking will start at 5:30pm.
Texas Agile meets on the second Tuesday of each month for open discussion in the evenings and hold various events throughout the year. Future topics are "Let's Talk About SAFe, Baby" and "The Business Value of Joy."
BeardedEagle is delighted to support the efforts of Texas Agile and help them grow Agile in this community. Anyone interested in Agile should attend this exciting event.
About BeardedEagle
BeardedEagle is a management consulting firm that specializes in organizational, team, and leadership development using Scrum, Agile, Lean & Six Sigma.
BeardedEagle partners with clients to design and then drive strategies and solutions that make lasting and meaningful impact by applying Agile, Lean & Six Sigma techniques. BeardedEagle is committed to delivering measurable results for their clients through executional excellence.
Whether you need to tune up on practices or you are looking to perform an organizational transformation, BeardedEagle will be your partner for success. To learn more about BeardedEagle, visit https://www.beardedeagle.com/.