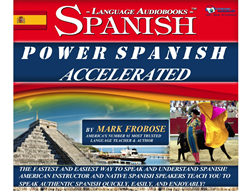 Now Spanish students everywhere can understand Spanish verb conjugation!Mark Frobose/Founderwww.languageaudiobooks.com
Champaign, IL (PRWEB) October 14, 2014
High school, middle school and college students throughout the United States and Canada will be glad to learn that their confusion concerning the conjugation of Spanish verbs is coming to an end.
How?
Language expert Mark Frobose, founder of LanguageAudiobooks.com announces the release of a free video which explains the basics of Spanish verb conjugation in just over two and a half minutes.
"I thought it was time to help the struggling language students of the world with a fast and easy explanation of Spanish verbs," say Frobose, bestselling author of LanguageAudiobooks.com's Power Spanish Accelerated.
Learn Languages Everywhere™ is the motto of LanguageAudiobooks.com. The Language Audiobooks® method is an extremely effective and versatile audio language learning system that can be used anywhere for any duration of time to teach people to speak any language while in the car, at home or on a smartphone! Designed specifically for use while on the go, this challenging, versatile and fast-paced method introduces, reviews and challenges language learners to interact successfully in spoken languages from any location so they can learn to speak any language of your dreams during otherwise wasted down time.
Language Audiobooks Inc. also specializes in downloadable digital language programs and CD programs like the bestselling Power Spanish 2 Accelerated, Power French Accelerated which are extremely fast and easy to learn and that are immediately accessible to any smart phone or computer. The Language Audiobooks' motto is "Learn Languages Everywhere™".
Language Audiobooks' popular Power Spanish, Power French, and Power Italian, Bite-Sized Mandarin, Conversational Latin-American Spanish, Clean French Slang and other innovative language programs are available for download now at LanguageAudiobooks.com, Audible.com or in CD format at Amazon.com.