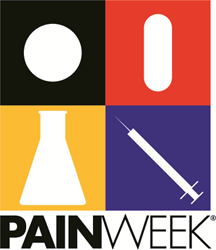 Montclair, NJ (PRWEB) October 14, 2014
There are 116 million people in pain. There are 4,000 pain specialists. That's 29,000 patients per pain specialist. There are simply not enough pain specialists to go around.
What can primary care clinicians do to meet the challenges of this growing public health issue? Attend PAINWeekEnd Irvine on Saturday, October 25, at the Irvine Marriott at 18000 Von Karman Avenue.
PAINWeekEnd offers frontline practitioners a concentrated day of continuing education in pain management.
PAINWeekEnd attendees can receive 6.0 AMA PRA Category 1 Credits as they enhance their capabilities in the assessment, diagnosis, and management of chronic pain conditions. Courses to be offered at PAINWeekEnd Irvine cover a broad range of pain conditions and practice considerations, including central pain; rational polypharmacy; adjuvants and coanalgesics; the use of Suboxone® [buprenorphine and naloxone]; and the timely discussion of appropriate vs inappropriate use of medical cannabinoids.
The PAINWeekEnd curriculum will be presented by a multidisciplinary faculty and is intended for frontline clinicians including physicians, nurses, nurse practitioners, physician assistants, and pharmacists. In addition, there will be commercially supported activities, both certified and noncertified, addressing a range of product, disease state, and medical information topics.
The online registration fee for PAINWeekEnd Conferences is $99.
PAINWeekEnd registrants are further offered the opportunity to register for the PAINWeek National Conference, September 8-12, 2015, in Las Vegas for $99 off the current online published price. Groups of 5 or more PAINWeekEnd registrants also receive one FREE registration to the PAINWeek National Conference.
To learn more about this or any other PAINWeekEnd Regional Conference (in Denver, New Orleans, or Honolulu), review the complete Irvine agenda, and register online (at a savings of $25 over the onsite registration fee), visit http://www.painweekend.org.
PAINWeekEnd is sponsored by Global Education Group and produced by Aventine Co., developers of PAINWeek®—the largest US conference on pain management.