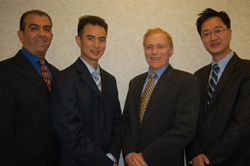 New York, NY (PRWEB) October 13, 2014
Herald Square Dental is providing valuable information on the effects of eating disorders on oral health.
According to the National Eating Disorders Association, more than 10 million Americans currently are affected by serious eating disorders such as anorexia, bulimia and binge eating. While anyone can suffer from an eating disorder, they are most common in teenagers and young adult women. In addition to having a negative impact on an individual's health and quality of life, eating disorders also affect self-image, relationships with families and friends, and performance in school or at work.
Eating disorders can also affect a person's oral health. Without the proper nutrition, gums may bleed easily. The glands that produce saliva may swell and individuals may experience chronic dry mouth. Frequent vomiting can affect teeth too. This is due to erosion from strong stomach acids, which repeatedly flows over teeth. Eventually, the enamel can be lost to the point that teeth change in color, shape and length. The edges of teeth become thin and break off easily. Eating hot or cold food, or drink may become uncomfortable.
Other effects of eating disorders on oral health include:

Loss of tissue and erosive lesions on the surface of teeth due to the effects of acid. These lesions can appear as early as six months from the start of the problem.
Changes in the color, shape and length of teeth. Teeth can become brittle, translucent and weak.
Increased sensitivity to temperature. In extreme cases, the tooth pulp can be exposed and cause infection, discoloration or even pulp death.
Enlargement of the salivary glands, dry mouth and reddened, dry, cracked lips.
Tooth decay, which can actually be aggravated by extensive tooth brushing or rinsing following vomiting.
Unprovoked, spontaneous pain within a particular tooth.
Those suffering from an eating disorder should follow certain practices to reduce oral health problems. They should maintain meticulous oral health care related to tooth brushing and flossing, and immediately after throwing up, do not brush but rinse with baking soda to help neutralize the effects of the stomach acid. Last, but not least, it's important to talk to a health care provider about the problem.
About the company:
Herald Square Dental and The Denture Center is a full-service dental office offering all phases of general dentistry. This includes porcelain veneers, orthodontic care (including Invisalign), implants that replace missing teeth entirely and more. Herald Square Dental and The Denture center are also well known for quality dentures custom fabricated right on the premises. Conveniently located in Herald Square in the heart of New York City, Herald Square Dental and The Denture Center has been known as New York's place for quality cosmetic dental care and same-day dentures since 1977. They are equipped with all the technology and comfort to optimally restore beautiful smiles successfully, affordably, quickly and conveniently. Dr.'s Pasch, Yam, Shirzadnia and Song and their friendly staff are highly-trained in fixing chipped, cracked or stained teeth with lovely new veneers. At Herald Square Dental and The Denture Center, they offer a wide range of affordable dental makeover options, including natural-looking porcelain crowns, tooth bonding and tooth-colored composite fillings. For more information, visit their website at http://www.heraldsquaredental.com/.