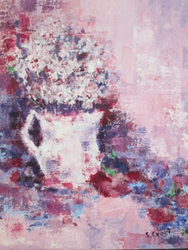 Savannah, GA (PRWEB) October 13, 2014
During the month of October through the closing reception on Nov. 6, Hospice Savannah's Miniature Masterpieces art show will hang in the Hospice Savannah Art Gallery located at 1352 Eisenhower Drive. This annual fall show, formerly known as the 5 by 7 Art Auction, would not be possible without the generosity of the many talented local artists who have donated such inspiring and original artwork.
Hospice Savannah warmly welcomes the public to preview the show during October and to make a start on holiday shopping by placing some bids. The closing reception will be held at 5:30 p.m. with final bids being taken at 7 p.m. on Thursday, Nov. 6.
Bids start at $50 - with many pieces priced even lower - and increase by $10 increments. Bidders do not have to be present to win - so if there is a piece a bidder loves, they are encouraged to bid high. There will be food and refreshments, and guest judge Heather Henley, editor of DOSavannah, will award prizes donated by Blick Art Materials to the first, second and third place winners.
Proceeds from the silent art auction support the Daily Impact Fund, helping Hospice Savannah to deliver the special services which make a difference in the lives of patients and their families each and every day. These include individual or group bereavement counseling for any child, teen or adult in the community; an overnight children's grief camp; the complementary therapies of story keeping, massage therapy and music therapy; Pet Peace of Mind® which allows patients and their beloved pets to stay together; the "We Honor Veterans" Initiative; and the Steward Companion transitions program.
For more information, please visit http://www.HospiceSavannah.org/ArtGallery or contact Beth Logan, Director of Marketing, at 912.355.2289.
About the company:
Hospice Savannah, Inc., a not-for-profit organization, provides the community with the best services and resources for living with a life-limiting illness, dying, death, grief and loss. Hospice Savannah exists to help lift the burden of worry when people receive or a loved one receives a life-limiting diagnosis. Together, more than 250 volunteers and more than 200 full- and part-time staff members are committed to fulfilling the mission of Hospice Savannah. For more information, call 912-355-2289 or visit their website.