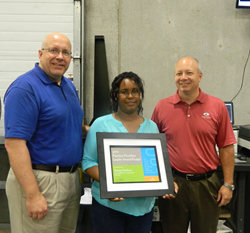 "She is a leader who excels in the work place through leading by example." - Jay Kuhn Senior Vice President of Operations for Aero Fulfillment Services
Cincinnati, OH (PRWEB) October 14, 2014
Recently, Definity Partners honored Tammy Faulkner of Aero Fulfillment Services as a 2014 Fearless Frontline Leader Award Finalist. The ceremony, which took place in front of her peers, supervisors and company executives, was held at the Aero Fulfillment Services facility in Fairfield, OH. Aero Fulfillment Services specializes in making fulfillment request more effective, efficient and easier to manage for their clients.
With the creation of the Fearless Frontline Leader Award, Definity Partners promotes excellence in frontline leadership and endorses the benefits of developing a proactive work place that encourages frontline leader empowerment, process simplification and team building.
Jay Kuhn, Senior Vice President of Operations for Aero Fulfillment Services, paid tribute to Tammy at the event saying, "She is a leader who excels in the work place through leading by example." He went on to say that Tammy is a great inspiration to those around her and that she truly is a fearless frontline leader.
Tammy was left speechless after Jay's kind words and the excitement and cheers from her team when it was announced that she was a finalist. She went on to thank her amazing team and stated that it was because of them and their hard work that she was being honored.
Definity Partners' Director of Organizational Development Rich Cary shared a video presentation about the frontline leader who inspired the award, Mike Stilwell. Mike was a dedicated and enthusiastic frontline leader at Norris Screen in Tazewell, Virginia who was tragically killed in an ATV accident in May of 2013. Definity Partners worked with Mike and still works with other courageous frontline leaders like him, every day. As a tribute to Mike, his family, and the hardworking frontline leaders across the nation, Definity Partners created this award program.
The Fearless Frontline Leader Award will be presented each year to inspirational frontline leaders across the nation. To nominate a frontline leader for 2015, or for more information on the Fearless Frontline Leader Award, please visit http://www.fearlessaward.com.
About Definity Partners, LLC.
Definity Partners exists to help people achieve more than they ever thought possible. Known as the leading consulting firm focused particularly on empowering frontline leaders to run your business, we are about developing people, changing cultures, attracting the best talent and driving improvements. From your executives, managers, and frontline leaders, we empower people to drive change, improve their environments and transform their organization into a contagious culture for growth.