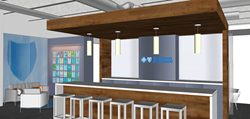 Eagan, Minn. (PRWEB) October 13, 2014
Blue Cross and Blue Shield of Minnesota (Blue Cross) today announced that the company's first retail store is set to open for business on Saturday, November 8. Doors at the Edina location will be open to the public at 11 a.m.
Located in the Yorkdale Shoppes mall on York Ave., the Blue Cross store will celebrate its grand opening by hosting a "healthy tailgating" event in the mall parking lot from 11 a.m. to 2 p.m. The event is open to the public and will feature prizes, activities and healthy refreshments.
The Blue Cross store is set to be a first-of-its-kind destination in Minnesota, where people can receive face-to-face help ranging from personalized service and claims support for their Blue Cross health plan to free wellness and how-to seminars on living a healthier life.
Store details are now available at bluecrossmn.com/edina. The website features directions, hours of operation and a schedule of store-hosted classes and events. Additionally, people can now reserve in-store appointments to discuss health care insurance needs or to speak a customer service representative by using the store's online scheduling application. Walk-in consultations are welcome starting on Saturday, November 8. Regular store hours will be 9 a.m. to 7 p.m. on weekdays and 9 a.m. to 3 p.m. on Saturdays.
While in-store consultations will be available starting Saturday, November 8, those shopping for an individual or family health plan for 2015 cannot make a purchase until Open Enrollment begins on Saturday, November 15. (In-store Medicare enrollment will be available starting opening day.)
Blue Cross and Blue Shield of Minnesota, with headquarters in the St. Paul suburb of Eagan, was chartered in 1933 as Minnesota's first health plan and continues to carry out its charter mission today: to promote a wider, more economical and timely availability of health services for the people of Minnesota. A nonprofit, taxable organization, Blue Cross is the largest health plan based in Minnesota, covering 2.6 million members in Minnesota and nationally through its health plans or plans administered by its affiliated companies. Blue Cross and Blue Shield of Minnesota is an independent licensee of the Blue Cross and Blue Shield Association, headquartered in Chicago. Go to bluecrossmn.com to learn more about Blue Cross and Blue Shield of Minnesota.