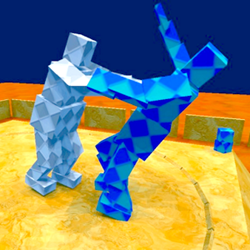 San Jose, CA (PRWEB) October 15, 2014
A new 2-Pager brochure from Gravitysensation describes the hilarious merits of its Sumotori Dreams app, now that it is enabled for Intel® Atom™ tablets for Android*. The Sumo-style sport game will reach and even larger gaming audience with these latest developments.
The brochure details the realistic, mano-y-mano game that mimics gravity and motion. The object is to push or topple opponents out of the circle and while it looks simple, the game is quite challenging. Part of the fun is watching the avatars crash, slam and land on the arena's obstacles. Five different game boards let players swivel the camera angle to strategize. The publication notes that the game allows two players or an AI opponent.
As an Intel® Software Partner, Gravitysensation has access to a portfolio of business and technical tools through the Intel® Developer Zone.
Sumotori Dreams is available for immediate download at Google Play: https://play.google.com/store/apps/details?id=com.gravitysensation.sumotori
About Gravitysensation:
Gravitysensation focuses on realistic, physics-based gaming apps. For more, visit: http://www.gravitysensation.com/sumotori/
Intel, the Intel logo and Intel Inside are trademarks of Intel Corporation in the U.S. and/or other countries.
*Other names and brands may be claimed as the property of others.
Copyright © 2014 Intel Corporation. All rights reserved.