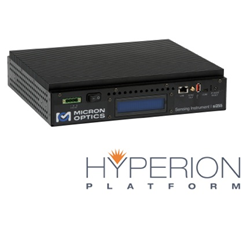 Atlanta, GA (PRWEB) October 15, 2014
Micron Optics, Inc., a global leading innovator and provider of fiber optic sensing systems, today announces the si255 Optical Sensing Interrogator as the newest addition to its portfolio of optical instruments.
Built upon the new Micron Optics HYPERION instrumentation platform and innovative x55 optical sensing core, the all new, industrial grade, si255 Optical Sensing Interrogator combines and enhances the very best features of Micron Optics' FBG interrogators.
Todd Haber, Micron Optics' CTO, explains, "HYPERION brings to market a host of previously unrealized capabilities. With the advent of this technology, users are no longer required to choose between the absolute accuracy, deep dynamic range, and full spectrum capabilities of static interrogators and the high speed capabilities of dynamic interrogators. The si255 interrogator delivers all of these features simultaneously in a rugged, robust, field deployable package."
The x55 core features a high power, low noise, ultra wide 160 nm swept wavelength laser that is realized through Micron Optics patented Fiber Fabry-Perot Tunable Filter technology. The high performance laser, in conjunction with a new generation of high speed, high dynamic range detection circuitry technology, enables a combination of sensor capacity and measurement performance that is simply unmatched in the optical sensing industry, such as:

The widest/fastest wavelength range scanning laser: 160 nm at 1kHz speed
The largest number of parallel channels - 16
Both dynamic and absolute measurements of Fiber Bragg Grating (FBG), Long Period FBG and Fabry-Perot (FP) sensors
Proven reliability and longevity of the Micron Optics swept wavelength source, with over 100 million hours of field operation logged since 2000
"About fifteen years ago Micron Optics introduced the first swept laser interrogator which revolutionized the FBG sensing market. Today we step into another new era of optical sensing with the first release from the HYPERION platform. Ultimately, the si255 features and later HYPERION based instrumentation launch us toward our mission of increasing the safety, security, and well-being of people through measurements of the world's most critical systems and structures," says Jeff Miller, CEO of Micron Optics.
For more information on the si255 and Micron Optics' entire line of industry-leading optical instruments, visit http://micronoptics.com/products/sensing_solutions/instruments/index.php
About Micron Optics, Inc.:
Micron Optics' (http://www.micronoptics.com) optical sensing and tunable filter products make impossible measurements possible, revealing new, critical information for infrastructure, energy, transportation, medical and industrial sectors. Since 1990, Micron Optics has been expanding its core capabilities from tunable optical components and leading-edge instrumentation and software, to complete optical sensing systems. Micron Optics is a privately held company with headquarters in Atlanta, Georgia, USA. For more information, visit http://www.micronoptics.com.
###
Marketing and PR Contact:
Megan Johnson
Marketing & Administrative Assistant
Micron Optics, Inc.
Phone: +1.404.325.0005 ext. 265
Email: marketing(at)micronoptics(dot)com