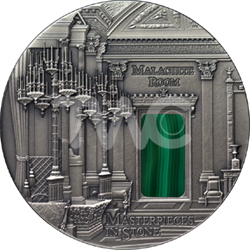 TopWorldCoins.com Gains the Best Coin of the Year Nomination
(PRWEB) November 21, 2014
Each year the best coins of the world are selected by the panel of judges who are chosen from members of American Numismatic Association and Citizens Advisory Committee, well-known numismatists, authors and editors. They thoroughly examine hundreds of coins from all over the world and select ten coins in ten nominations and these coins represent the epitome of the theme and design.
This year the gem of the TopWorldCoins collection, Fiji 2013 10$ Malachite Room silver coin is justly nominated for the Most Artistic Coin award among scores of coins. This nomination is a true acknowledgement of successful work of TopWorldCoins.com in the world of numismatics.
TopWorldCoins is a fast-evolving and promising company in the numismatic market that proposes the world's best coins. The most fastidious collector can definitely find here true masterpieces that can embellish any collection. Limited mintage, various features and exoticism of coins make them really desirable and members of TopWorldCoins team pick over the best items of mint art to satisfy any hard-to-please client. This company also proposes wide range of ideas for presents on various occasions and to connoisseurs and admirers of art, nature, celebrities etc.
The nominated coin belongs to the Masterpieces in Stone collection launched by the Republic of Fiji. It is dedicated to the 250th Anniversary of the Hermitage Museum and finely depicts Malachite Room situated in the Winter Palace of Hermitage. Beautiful gemstone insert of malachite tributes to the decoration of this masterpiece of architecture and décor.
This year public has a chance to vote for favorite coins, however, the results of the voting will not influence on the choice of the judge panel. The rewards will be presented during the ceremony at the World Money Fair in Berlin on January 31, 2015.
More detailed information concerning this company and detailed description of nominated coin can be found at http://www.topworldcoins.com/.