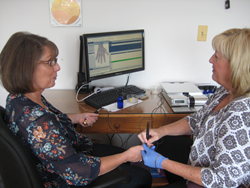 While Vitamin D has long been recognized has playing a critical role in maintaining strong, healthy bones, it's role in health and longevity is now understood in many health systems throughout the body
Orland Park, Illinois (PRWEB) October 13, 2014
"Without noticeable symptoms, serious medical conditions can go undetected for up to two years," began Barbara Griffin, NMD, CNC, Certified Gluten Practitioner and director of Vital Health, Inc. "A blood chemistry wellness test provides the best warning indicator. The information that is gathered through these valuable tests provide the opportunity to proactively address the underlining health condition before it manifests into more serious symptoms or a diagnosable disease," remarked Dr. Griffin.
Vital Health, Inc's. Blood Chemistry Wellness tests are ordered online and lab requisition(s) are emailed to the client. Labs are drawn at local Labcorp facilities. Dr. Griffin who incorporates her over 40 years of experience as a traditional naturopath and clinical nutritionist can review online results. No appointment with Dr. Griffin is necessary to take advantage of the Blood Chemistry Wellness tests. Many consumers are under-insured, have high deductibles, or health plans without a wellness benefit. In order to ensure they are more accessible to consumers, Vital Health, Inc.'s new Blood Chemistry Wellness tests are affordable.
One example of a blood chemistry test Vital Health, Inc. now offers is Vitamin D levels. "While Vitamin D has long been recognized has playing a critical role in maintaining strong, healthy bones, it's role in health and longevity is now understood in many health systems throughout the body," explained Dr. Griffin.
Vitamin D deficiency is linked to:

Increased risk for such brain-related disorders as Parkinson's disease, autism, and dementia.
Autoimmune diseases such as multiple sclerosis, rheumatoid arthritis, and type 1 diabetes.
Increased risk of developing breast, colon, prostate, ovaries, esophagus and lymphatic system.
High blood pressure.
Dr. Griffin remarked, "This new and empowering evidence of the role Vitamin D plays in the body, supports proper screening to identify low Vitamin D status. I recommend ProVitality Vitamin D supplements. If a person is already taking Vitamin D, and the blood test identifies Vitamin D deficiency, in order to ensure better absorption I recommend Bio-D Mulsion."
An example of other frequent common Blood Chemistry Wellness test typically requested are thyroid and thyroid antibodies, diabetes, celiac antibodies, and CBC's. For more information, or to get started with the Blood Chemistry Wellness testing please contact Vital Health, Inc. at (708) 226-1131 or email them at vitalhealth1(at)aol(dot)com.
Vital Health, Inc., addresses a whole body approach to health with the intention of facilitating well-being and optimal health. Before starting any supplement regimen Vital Health, Inc. recommends consulting your physician.
About Vital Health, Inc.:
At Vital Health, Inc. Dr. Griffin integrates a whole body approach with the intention of facilitating wellbeing and optimal health amongst her clients. Dr. Griffin's specialties include: traditional naturopathy, nutrition, EAV Meridian Stress Assessment, Food Sensitivity Screening, Environmental Screenings, Iridology, SKASYS, Live Blood Cell Analysis as well as established integrative therapies such as Neuroemotional Therapy, Neuromodulation Technique, Cold Laser and clinician for Spectracell Laboratories, Inc. Vital Health, Inc. is located in the Orland Park Crossing office complex at 1425 S. 95th Ave., Suite 409, Orland Park, IL 60462 (708) 226-1131 http://www.vitalhealth.org